Add to this grove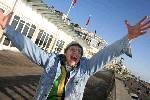 Chrissy you gave us all so many gifts over the years it is hard to count,
The light in your eyes
The smile from your soul
Your quiet strength
Your infectious laughter
Your generosity, kindness and nurturing ways
We will miss sharing a pint, listening to you spin and so much more
You will never be forgotten, not ever.
Started by your family in the States.
Read more
---
Donations
Happy Anniversary my Love of Loves
Donated by
christine belk
19/09/2014
Love you always Chrissy. Miss you so much my friend. Know how you loved the woods :)
04/03/2014
6 years on and you still fill my heart. Miss you lover.
Donated by
christine belk
04/03/2014
Happy Birthday my love of loves, I miss you so much
Donated by
christine belk
14/01/2014
Donated by
christine belk
07/01/2013
I will always treasure my wonderful memories of you. I'm going to miss you forever, dear daughter of my heartTo my Chrissy Bear with all my heart. You are the greatest LOVE I could possibly imagine. Christine
Donated by
the Belk Family, and Christine Belk.
23/09/2010