2nd June 2017, by Mireille C. Crocco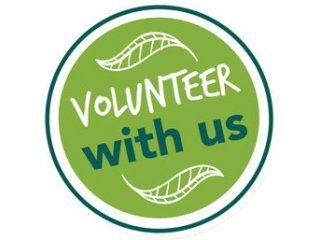 A volunteer blog from Mireille Crocco
Birch, alder, aspen, black thorn, rowen, downy birch, downy willow, wooly willow, Scots pine, bird cherry, tea-leaved willow, juniper, oak, hazel… These are just a few of the different species of local flora that I was introduced to during my time at Trees for Life.
I participated in a conservation week on the Dundreggan Nursery and was absolutely overwhelmed (in the best way!) with the amount of information I received, the work offered, and the seemingly thousands upon thousands of baby trees I encountered.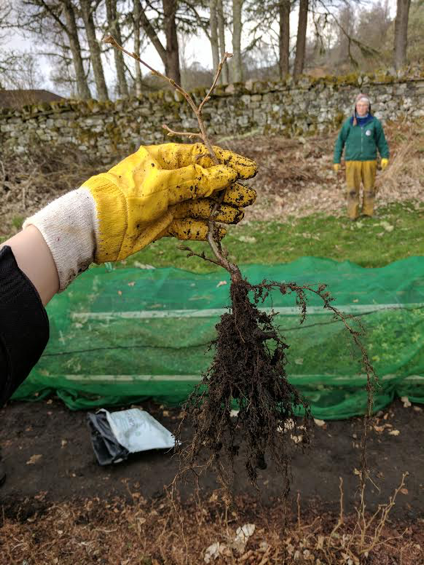 The week began on Sunday, after our initial arrival the day before, with the digging up of hazel saplings from their beds to get them prepared for planting in the wild in the later coming weeks. This was followed by the transfer of baby aspens from their root trainers to roomier bags the next day. From there, a small group of us took on the sowing of two separate beds with a total of 4 different species and the construction of a cloche to shelter downy birch seedlings. Challenging though it was, this was probably my favorite day.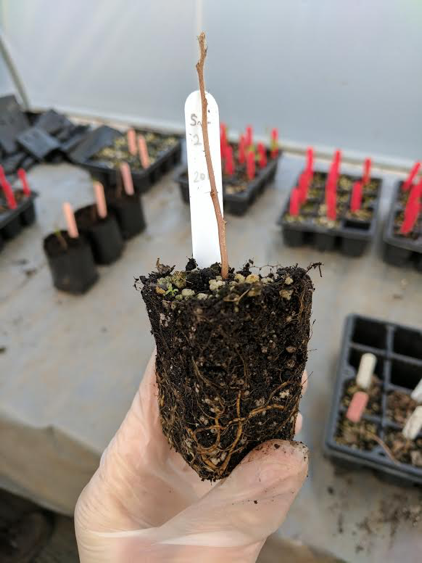 The last day on the nursery, I joined a staff member along with a couple of my fellow volunteers to assist in the tagging of 400 aspen saplings that had been planted in the former wild boar enclosure. An intense day indeed for it involved about 5 hours of hiking up and down a steep hill amongst the thick tangle of bracken that were hiding wobbly rocks and rotting trees. We managed to tag 79 trees thus adding to the 100 the previous team of volunteers had already gotten to. Job halfway done!
Now bearing in mind, these are just the tasks that I chose to take on. There was so much more going on all around me across the nursery throughout the week. The staff were full of knowledge and passion; they instructed and guided us well. Their enthusiasm for the project was palpable, and I think it's safe to say that it rubbed off on the rest of us.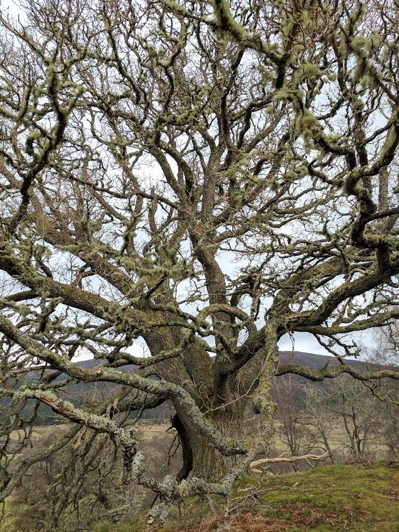 Each morning before beginning work in the nursery, our Group Leaders John and Fay led us in our morning activity. This constituted anything ranging from a game of silent ninja, to a nature scavenger hunt, to a barefoot walk up a small mossy hill to the most magnificent oak tree you have ever seen. And let us not forget the sit spots! We ended up doing a total of 3 of these at Fay's insistence and they were most rewarding. There is something remarkably peaceful about sitting quietly for a moment in nature and just observing. Letting it all be…
Our mid-week day off was quite packed too. Fay took those of us who joined her for brunch at the Redburn café on a pleasant detour before we returned to the nursery. On our way to check out the young aspens that had been planted in the 2009 enclosure shortly after the property was purchased by Trees for Life, we stopped to examine a bird cherry tree, learn about the deciduous conifer larch, talk about the robust Scots pine, and were followed by a flock of curious (and probably hungry) sheep along the way.
This was followed by a drive further up on the property to see the other enclosures Trees for Life plan to fill up with trees. It was during this time that the magnitude of Trees for Life's mission sank in. Seeing those huge swaths of barren highlands was daunting. The wind was hard and the raindrops stung our faces like needles. It was a wonder how anything, especially something as vulnerable as a sapling, could survive up here.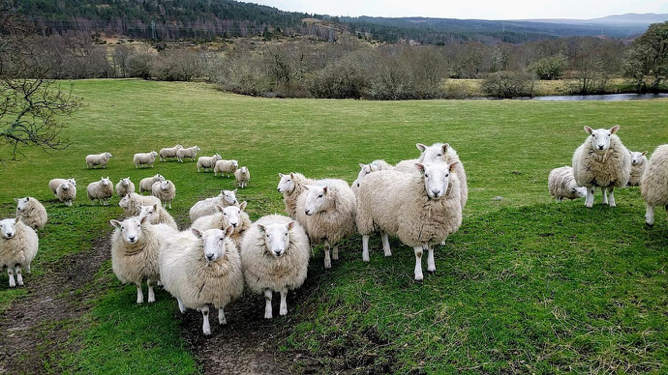 But it's possible! The proof is in the wildlife that is coming back to the area. We saw dozens of different bird species during the week including a golden eagle. There were wood ant sightings and even a pine martin caught on camera! It was very exciting to actually see progress, to witness the fact that this great task is actually doing what it set out to do. My days were brightened with all the incredible sounds of nature that played on loop: the wind through the trees, the myriad bird songs, raindrops hitting the leaves…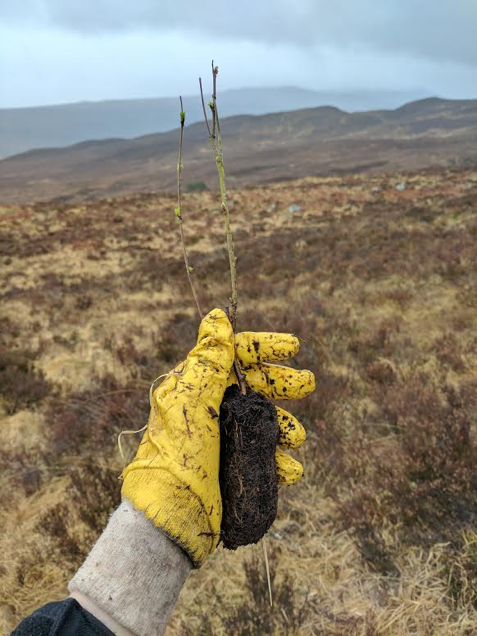 About mid-week, John took a small group of us up to one of the tree enclosures about 2 kilometers away from the nursery to plant a few trees. This was not part of the original program but was an unexpected extra special treat. One that I was very happy to take part of. It rained the entirety of the hike but it was well worth it.
There is something deeply humbling about planting a tree. The mere fact that I was able to hold so many in the palm of my hand throughout the week was a miracle in that of itself. Looking after and caring for these tiny organisms that would one day grow up to be massive beings and even full ecosystems in their own right was an awe-inspiring and, dare I say, an emotional experience.
Before this week, I had never done any kind of volunteer conservation before. Not only did I leave with dirt under my fingernails, but also with a whole new wealth of knowledge and the comfort that I had contributed in an active and positive way for the betterment of nature and the Scottish Highlands. To give my time and care to a project that will outlive me and benefit future generations was one of the most satisfying experiences of my life, and I hope to come back soon and do it all over again.
Many thanks to John Hodgson and Fay Blackburn for their extraordinary leadership, wisdom, patience, and wit and to the other volunteers who made this week most memorable.
Mireille C. Crocco
​If you would like to experience a Nursery Week yourself click below to take a look.