21st November 2016, by Emma Beckinsale
The Nursery Team have had another successful year of seed collecting for Kew Gardens Millennium Seed Bank Project. With the help of long-term and local volunteers we have made five collections so far, with another two planned.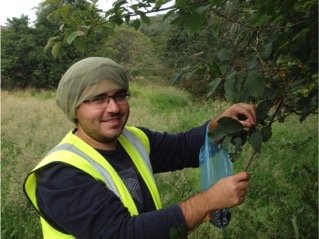 This year we started with a Bird Cherry collection on Dundreggan. Midge nets were essential for this collection, but Matt managed to brave the midges long enough for us to get a photo. This was the smallest, and most difficult collection of the year with only a small number of trees bearing fruit. Fingers crossed we managed to get the 10,000 seeds necessary for the collection to be accessioned into the Bank.
Our next collection took us further afield to the spectacular Corrieshalloch Gorge, a National Nature Reserve owned and managed by the National Trust for Scotland. Corrieshalloch is nothing like the 'ugly hollow' of its Gaelic translation. It is a slot-gorge, cut away by glacial melt water about 2.6million years ago.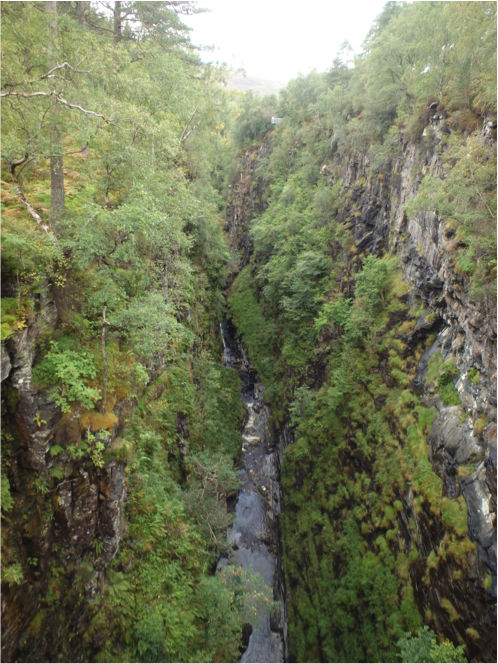 Today this deep chasm is hidden amongst native trees, and has the River Dorma flowing through it. Here we collected Honeysuckle, a first for Trees for Life. Despite the dramatic surroundings, the collection was quite safe with all of the honeysuckle growing away from the gorge edge on flat ground!
By far my favourite collections of the year were the rowan collections. We made two, one under 300m and one over 300m. In stark contrast to the poor crops last year, 2016 was a mast year for rowan with bumper crops on almost every tree! Our first collection was made at Dundreggan, along Allt Ruadh (The Red Burn), which is lined on both sides with rowan.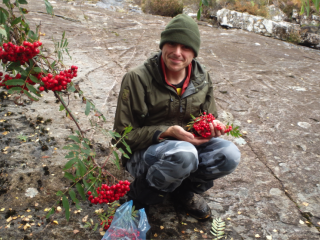 We collected bags of berries, making sure to leave enough for the birds. When we got back to the nursery we tested the seed viability, cutting a sample of seeds open to see whether they were healthy. The viability of the rowan crop was a whopping 87%, which is fantastic and corroborates the theory that in mast years the viability of crops tends to be higher.

The second, high elevation, rowan collection was made in Barrach Wood, Cougie. This was a tricky collection, walking over uneven and steep ground. Most of the trees were quite tall, making them hard to reach by hand. Luckily we had Richard and a long-handled pruner to help us. It wasn't all hard work and we managed to have a relaxing lunch in a beautiful location.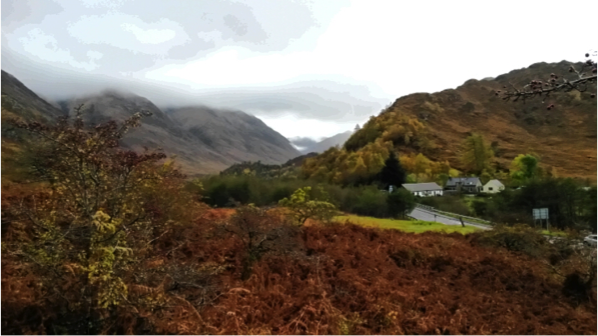 Most recently we were collecting hawthorn at Shiel Bridge, with the help of Rule Anderson from the National Trust for Scotland. Hawthorn is particularly rare up in the highlands, so we were delighted when Simon, one of our local volunteers drew our attention to these trees. The area is very conveniently marked by a 2000 year old standing stone, and the hawthorn were laden with berries. The short daylight hours meant we were rushing against the clock to complete the collection before darkness set in.