28th July 2016, by Alasdair Taylor
In June 2015 Alasdair Taylor arrived at Dundreggan as a Long-Term Volunteer, eager to immerse himself in the Ancient Caledonian Forest and to fulfil a long-held ambition to contribute to Trees for Life's mission. He details his journey of then going on to facilitate a Trees for Life Conservation Week focused on ecotherapy in May this year.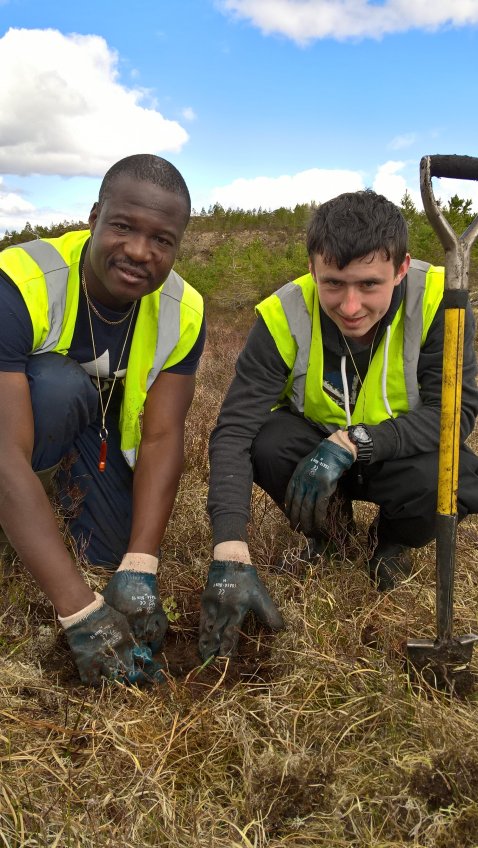 Shortly before I pitched my yurt by the 'fallen lady' aspen tree next to the Tree Nursery, I had just received the good news from my solicitors that my new social enterprise, Earth for Life had been successfully set up. Now, let's be clear that the similarity of the names of these two organisations (one boasting a quarter of a century of great success and resilience, with inspirational leadership, leading the way in rewilding the Highlands and the other newly-emerged like a little oak seedling from rich soil bequeathed by years of training and experience, a good network of free-lancers and business partners and some significant support from First Port Scotland) was not down to the new copying the old. Rather, the name Earth for Life was founded on a sense of humans' deep but half-forgotten connection with our local and planetary ecosystems, upon which we are utterly dependent every moment of our lives, and a sprinkle of Sufi mysticism which came during a retreat in India, but that's another story...
It quickly became clear that Trees for Life and Earth for Life could work together to engage a wider range of people with Trees for Life's work in rewilding, whilst deepening the volunteers' connection with the landscapes they were working in. The question on the minds of everyone involved was, however, "can adults with severe and enduring mental ill-health manage a full residential conservation week with Trees for Life?" Soon we would have the answer, and here it is…
Thanks to further support from Trees for Life staff, Earth for Life was given the go-ahead to arrange a conservation week for Birchwood Highland to attend a week at the end of May 2016. A total of 9 participants, 6 residents and 3 staff came along. The two main challenges facing the group included being away from their usual living space and routines for 7 days as well as the mental and physical demands of the conservation tasks. We believed that this group had the capacity to push their comfort zones in order to achieve something for themselves and the landscape they live in.
So how did they do at Dundreggan?
Participants worked in pairs, which worked well for morale and task concentration. All participants felt challenged by tree planting in terms of physical stamina, which was added to by the walk to the site, but all continued until the end of the day. 454 birch and willow trees were planted, 1 per mound and we were mounding by hand (i.e. with a spade) as we went. The group was aided and inspired by stunning sunny weather and spectacular views up and down Glen Moriston. Tasks in the Tree Nursery were allocated by a combination of participants' preferences and Conservation Week Leaders and support staff encouraged them in working to their strengths.
Participants also spent three days exploring the landscape and wildlife around Dundreggan. Saturday's guided walk around the land adjacent to Dundreggan Lodge gave context for the ecological basis for Trees for Life's work of rewilding the Caledonian Forest. Particular interest was shown in the various species of ants, the longevity of trees, role of dead wood in the ecosystem, and edible plants growing on site.
On each work day morning, 10-20 minute nature connection activities were led by Trees for Life Conservation Week Leader Mia Lutsch and myself. The ordering of these activities through the week was structured to follow the 9-step PRANA method of eco-therapy.
They had shown themselves to be very resilient in the face of challenging physical situations such as strenuous walks into work sites and 'hard-graft' conservation tasks in cold weather, all the while managing their own mental health conditions and side effects of medication. Considering the physical and psychological challenges faced by each individual during the week, it was encouraging not only that they felt better by the end of the week, but that a heightened sense of well-being was sustained. One of the participants said: "The best thing for my mental health is that it has been really relaxing being here. It was good to get the work done, knowing we're doing something to help our country." Another also added: "Great atmosphere and lovely people. Great walks. Liked sharing work and chores. Love the community spirit – we need more of that. If I wasn't here I'd be sitting in my room drinking beer and watching television."
"Can adults with severe and enduring mental ill-health manage a full residential conservation week with Trees for Life?", the answer is undoubtedly "yes!"
In spite of the fact that most of the conservation tasks involved a much higher level of physical exercise than most group members were used to, participants reported having more energy as a result of the work, and the walking involved to reach the work site. "Fresh air" was also reported by clients as a "feel-good factor". A majority of participants on the week spend a majority of their time indoors or in a built-up urban area, and the change of environment felt beneficial. This is not surprising, as a common treatment for mental ill-health up until the mid-twentieth century was 'Fresh Air Therapy.'
Participants also reported an appetite for healthier food and appreciated more regular meal-times than is the norm in their place of residence. For participants, attending this week represented a huge step into the unknown. There were challenges for all involved, and these were most acute for the first two and a half days of the week. From then on, participants became accustomed to their surroundings and committed themselves to the work, gaining a sense of satisfaction, purpose and group bonding from sharing the tasks and testing their limits.
That participating in the week enhanced their sense of physical and mental well-being is beyond question. Returning to our original question "can adults with severe and enduring mental ill-health manage a full residential conservation week with Trees for Life?", the answer is undoubtedly "yes!"