22nd March 2018, by Emma Beckinsale. Image - the Kew Millennium Seed Bank
Our new Caledonian Forest Research Centre at Dundreggan, funded with the help of donations and grants, will come into operation later this year. It provides a much-needed opportunity to improve our seed preparation facilities. To help ensure we have the right equipment, our nursery team recently took part in a week-long training course at Kew's Millennium Seed Bank at Wakehurst to learn from the global experts in seed storage.
Nursery Assistant, Emma Beckinsale reports…
'For three years the tree nursery staff at Dundreggan have been collecting native tree seed for the UK National Tree Seed Project - stored in Kew's Millennium Seed Bank. They use our seed for research, and with ever-increasing threats to native species this project aims to safeguard trees and shrubs throughout the UK.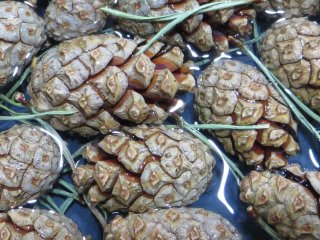 The training course covered all aspects of seed development, processing and storage. Our time was divided between practical work in the laboratories above the Millennium Seed Bank vaults and lectures on topics such as germination, seed drying and moisture measurement.
We learnt new techniques for processing seed collections, some of which we will put into practice at our Dundreggan Conservation Estate. One of our favourite techniques is for Scots pine processing; this involves drying the cones in a drying room at 15C and 15% Relative Humidity, followed by submerging them into cold water. When in the water the cones crack and pop. After all cracking has finished the cones are then re-dried, at which stage they open fully and all the seeds can be easily removed.
After being processed the seeds are x-rayed to assess their quality. The x-ray image shows whether the seeds are full, empty or infested. We were lucky enough to have some of our collections x-rayed. However, a germination test is required to get a true picture of seed viability.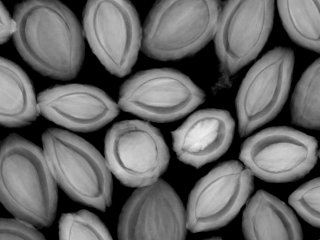 During a practical session we helped set up germination tests. This involved placing seeds in a petri dish filled with agar (seaweed gel). Some seeds were so small they required microscopes to see them clearly and fine forceps to move them carefully into position. The petri dishes were then placed in walk-in incubators and will be checked weekly for signs of germination. These germination tests are a way of checking the viability of seed stored within the bank.
After cleaning, drying and counting most seeds are stored at -20C in underground vaults. We were able to go inside one of the vaults; it is so cold that you're only allowed in for a maximum of 15 minutes at a time. We were helping to put a few collections away, and luckily it didn't take long. There are some species that are unable to be stored in this way, either they are short-lived species, or species that cannot withstand the necessary drying. These species are cryogenically stored in liquid nitrogen at -190C!
Our thanks go to all the staff at the Millennium Seed Bank and to The Patsy Wood Trust who generously funded the training which will help us ensure our new facilities at Dundreggan are the best they can be.'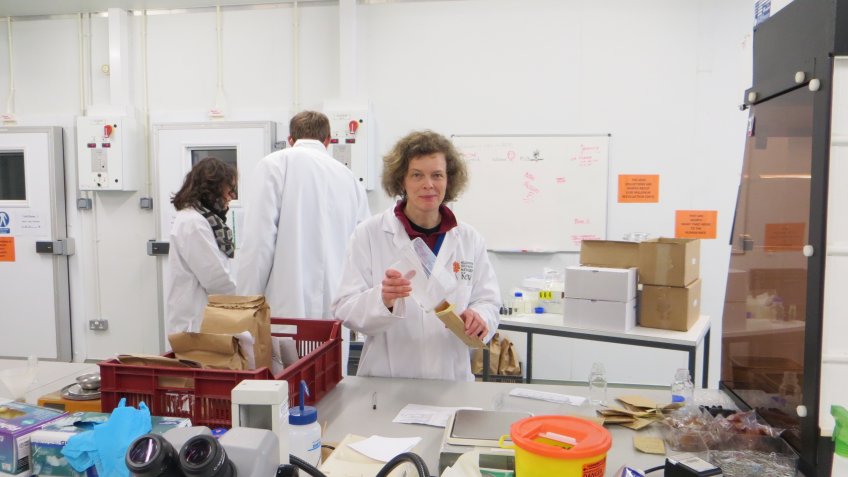 Nursery Manager Jill in the Laboratory
The UK National Tree Seed Project is funded by the Players of Peoples Postcode Lottery