21st September 2016, by Joyce Gilbert
Trees for Life's
Corporate & Trusts Development Officer

Joyce Gilbert trades funding application forms for a 'Journey of Trees' - a

Gaelic place-naming

weekend of tree planting and pony trekking.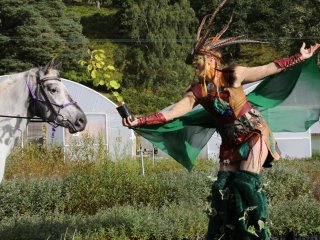 Last weekend found me walking beside a couple of ponies on a "Journey with Trees" along an old Military Road between Glenmoriston and Invergarry via Fort Augustus. The journey was the initiation of a project I've put together to celebrate the place of trees in the local landscape around Dundreggan, but also to highlight the fascinating links between our natural heritage and the Gaelic language. Look closely at ordinary OS maps and you will see a plethora of Gaelic place-names for just about every loch, peak and stream in this part of Scotland. My interest in this was sparked by the realisation that these names can act as a sort of "ecological memory" where the names of animals and plants, including trees are recorded. Just across the Glen from Dundreggan Conservation Estate is Creag a' Mhadaidh meaning Wolf Crag while just to the east of this is Coille nam Beithe – the Birch Wood. Amazingly, the birch wood is still there, after who knows how many centuries since the name was given to the place by local people. Of course, there are no wolves in Glenmoriston today, but the fact that a remote corrie in the glen is named after an animal that only disappeared from Scotland sometime in the 17th or early 18th Century, is food for thought.
The weekend began with a gathering of people (locals and Trees for Life staff) at Dundreggan. We were also joined by two ponies (Cinnamon and Vegas). Their part in the story was to carry trees grown from local seed at the Trees for Life Nursery to places with tree names – Allt nan Fearna, the Stream of the Alders, and Achadh nan Darach, or Oak Field. There were no longer any Alders or Oaks respectively in each place now and my idea was to re-connect the Gaelic place-name with the actual trees they remember. Our route was along old drove roads, some of which were purloined in the 18th Century as military roads, that also connect the communities of Glenmoriston, Fort Augustus (Gaelic name Cill Chuimen, roughly pronounced "Kill-hooman") and Invergarry where a local community woodland is being developed.
'The gale which so buffeted us only seemed to enliven our hill ponies. With energy that put us to shame, they climbed up and down gullies and forded now swollen burns as if rivulets.'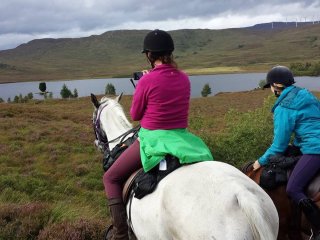 The two ponies were loaded with alder, oak and hazel trees, while storyteller Ariel Killick was on hand to give the journey a Gaelic blessing and send us on our way. The ponies were not quite sure what to make of Ariel who towered above us representing 'Sitheag Coillie' – an ancient Gaelic wood spirit. Just west of Torgoyle Bridge we set off towards Fort Augustus, joining the Old Military Road about half-way up the slope. We passed through a small remnant of Caledonian Forest then into dense stands of Sitka spruce before emerging into open moorland where we faced our first challenge of the day – crossing the ford at Allt an Phocacain (the stream of the pockets) which after two days of rain required careful planning to cross safely. The older and more experienced pony Vegas, hesitated for several minutes before splashing through. Reassured she was quickly followed by Cinnamon. We then carefully planned our route while Vegas turned to watch us from the far bank. This same ford had proved troublesome for Boswell and Johnson in 1773 and for Moray McLaren in 1954, when they had travelled on our route in very poor weather. They had relied on their ponies to find their way safely. It seemed fitting to read a passage from Moray's account of the journey - 'The Highland Jaunt' and we gathered round to share his admiration for the ponies who saved the day.
At Allt nan Fearna near the top of the road, we planted three alder trees on the banks of the stream, quite possibly the first alders back in the landscape here for many decades or perhaps even centuries. We reflected on this while reading a quote from Samuel Johnson who had passed this way in 1773.
'The country is totally denuded of its wood, but the stumps of oaks and firs, which are still found, shew that it has been once a forest of large timber.'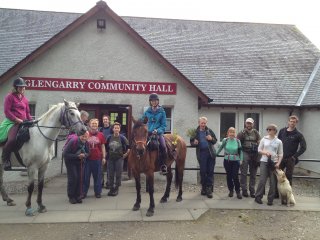 Later in the afternoon we arrived at Kilchuimen Academy in Fort Augustus. A gift of trees was given to the community and Ariel told the story of the Gaelic alphabet, which uses trees as letter names (e.g. Fearna (alder) is the name of the letter F). The following day, the ponies continued their journey to Invergarry with a new set of companion walkers. We made a stop at Achadh nan Darach (Field of the Oak Trees) where we planted a sturdy oak tree, again the first oak back in the landscape for some considerable time. The final destination was Glen Garry Community Hall, where we were met by a feast of cake and tea prepared by Grace Grant of Glengarry Community Woodland. Ariel re-told her alphabet story to an audience of children and adults, while hazel, holly, birch and rowan trees were gifted to the Glen Garry Community Woodland project. Some of these were planted on the day by local children with guidance from Glengarry Community Woodland Development Officer, Tom Cooper.
Of course, three alders and one oak tree will not make a forest, but we felt the symbolism of re-connecting the Gaelic place-names with the planting of trees was empowering. The Rewilding the Highlands Project itself will involve the planting of 200,000 trees and 1000 of these will be going to our partners at Glengarry Community Woodland. Community engagement sits at the heart of our new five year strategy so we believe that this just the beginning of an exciting new phase of partnership working to restore the Caledonian Forest.