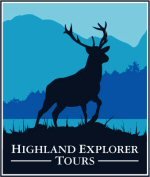 Edinburgh-based 5 star midi-coach tour company Highland Explorer Tours, offer a selection of tours throughout the Highlands including Loch Ness, Glencoe and the Isle of Skye. Highland Explorer Tours are keen supporters of Tree for Life and have introduced a groundbreaking Environmental Charity Offering scheme (ECO) for its passengers.
Passengers booking onto their tours can make an optional £2 donation to leading Scottish environmental charities John Muir Trust (50%) and Trees For Life (50%). This donation will be 100% matched by Highland Explorer Tours.
This innovative scheme is a first in the market and demonstrates the company's commitment to Scotland's natural environment and culture.
Alastair Campbell, Managing Director of Highland Explorer Tours, said
'Our team strongly believe in putting something back and we are delighted to support Tree for Life to help preserve Scotland's natural environment and biodiversity for future generations'.
Return to Companies supporting Trees for Life.