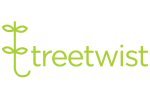 Treetwist (www.treetwist.co.uk) was created out of frustration; frustration that although we couldn't change our lives fundamentally, we wanted to do something to help combat climate change and improve the environment. We felt that there must be something people could buy that would be interesting, new and make a useful and positive environmental statement.
Treetwists are woollen scarves, bracelets or clips. They are different because each one comes with a tree, planted in the Caledonian Forest by Trees for Life. Every Treetwist therefore represents a tree.
The Treetwists are unique and highly collectable, designed in Scotland by Tait & Style with Ingrid Tait's signature look. They are handmade largely by outworkers in the Shetland and Orkney Islands. Each scarf, bracelet and clip is decorated with leaves, bobbles, flowers or hearts. Colours vary from earth and masculine to the most vivid and striking shades.
Treetwists are totally new, and different, capturing the zeitgeist of the moment. Treetwists are not only stylish to wear, they support the reforesting work in Scotland by Trees for Life. Every person wearing one is responsible for a tree.
Treetwists start at £10 for a TreeClip and a seedling, up to £20 for a TreeTie and a tree planted and maintained by Trees for Life.
At Treetwist we are committed to making a conscious effort to be kind to the environment. We believe that every small step makes a difference.
Treetwist supports Trees for Life with quarterly donations, based on the sale of their products, since December 2006, and have supported the purchase and planting of over 1,500 trees.
Return to Companies supporting Trees for Life.