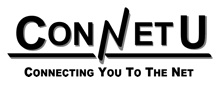 ConnetU provides high performance dedicated server hosting, colocation hosting of clients' equipment, and full management support services.
In 2009 a report published by Gartner estimated that the IT industry accounts for 2% of global CO2 emissions, the same as the world's airlines. As Internet services must be powered continuously so they are available "on-demand", data centres account for nearly a quarter of the IT output - 0.5% of the global CO2 emissions. Even in an industry as competitive as Internet hosting, this should be an important consideration, but for cost reasons it is usually overlooked.
That's why ConnetU have partnered with Trees for Life. For every server rented by clients, another tree is planted in our grove and the client is presented with a certificate. This is part of an effort, over the long term, to compensate for the emissions ConnetU indirectly generates and to rebuild the natural beauty of the UK. In addition, ConnetU operates a completely paperless operation and encourages staff to avoid commuting where possible.
As a progressive and responsible company, ConnetU strives to reduce its carbon footprint now by constantly testing the viability of technologies such as low-power components, virtualisation to reduce the number of machines running, and power management software to ensure only a sufficient number of servers are powered on at any one time to cope with demand.
Read more
---