This grove has been established by 'Trees for Life' on behalf of Simply Rouge.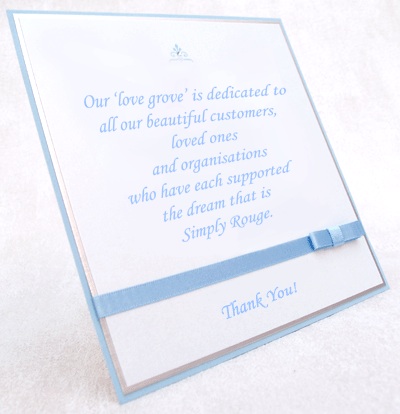 As a young developing business we want minimize the effect we have on the environment. We are very excited about our new grove and we are so grateful to Trees for Life for providing such a wonderful service.
Here at Simply Rouge we predominantly use paper in the creation of our products, so we see our grove as a beautiful way to repay the earth and thank it for providing us with our materials.
We have become aware that many stationery products are shipped around the world one or two times as the raw materials are converted and packaged etc...
We source suppliers who are direct paper mill distributors, and because we craft from scratch we know our raw materials have travelled the least distance possible.
For Simply Rouge, growing our business means something so much deeper than profit.
We have pledged to have a tree planted in our grove for each full order placed with us!
So as our business grows, so will our grove!
The initial trees planted to establish the grove have been dedicated to special people and organisations who helped Simply Rouge grow from a tiny seed of a dream into the thriving business it is today. If you would like to become part of this special project please feel free to donate a tree (or two or three!) today. Payment is quick, secure and simple!
Dedications:
These first trees are dedicated to:
Kieran
Jenny and David
Tim and Fiona
Debbie Vagg
Womens' Aid
Crisis Changing Lives
Conway Mill Trust
The Princes' Trust
Linda and Jason
Laura and Stephen
Michelle and Brian
Sarah and Robert
Lisa and Anthony
Rebecca and Mark
Amanda and Paul
Sharron and Mike
Lisa and Craig
Jeanette and Paul
Tanya and John
Fiona and Chris
IN! Magazine Northern Ireland
Lynne and Robin
Olivia and Simon
Danielle and Aidan

Read more
---