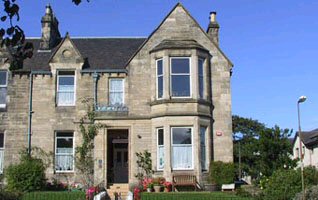 Come share our Edinburgh home! For Bed and Breakfast accommodation more personal than any hotel try a stay in our Edinburgh Guest House. A comfortable, traditional Victorian house in a peaceful residential area of Edinburgh in a lovely leafy street leading to sandy Portobello beach & promenade. So peaceful it is difficult to believe you are only a fifteen minute busride from the centre. Explore the rich heritage of Edinburgh by day - relax in the evening with a quiet stroll along the beachfront promenade. Enjoy a comfortable bed and breakfast in grand Edinburgh style in our elegant dining room. For a real Edinburgh bed and breakfast experience come stay in our guest house in Portobello Edinburgh.
Stay with people who care!!
Our interest in environmental matters has led us to join The Green Tourism Business Scheme. We try to be an eco friendly and eco conscious B and B and are tickled PINK to be able to boast that we have been awarded the highest accolade for a Bed and Breakfast in Edinburgh: The GOLD STANDARD by the GREEN TOURISM SCHEME. We are committed to environmental management of our resources through re-cycling, energy and water conservation, restriction of waste and noxious matters, screening of all our suppliers and trades to the Bed and Breakfast. Click HERE for details of what we try to do for our environment.
We want to offset our own carbon footprint and are also keenly aware that we get visitors to Edinburgh from all over the world and so try to encourage them to offset the effects of travel so we suggest that they help by donation to help our own Caledonian forests.
Dedications
"Just to plant a tree to help the environment at the end of our wonderful stay at Straven"- Gabriele Voss.
"To assuage our guilt for all that aviation fuel, although the wonderful stay at Straven made it all worth while!" - Sandy & Anne, Jersey.
"For my dearest friend Shirley Rees who died age 57. In loving memory of her" - Lyn Arrowsmith
"In memory of Dave and Grace, who left us in the care of each other. They are always in our hearts and minds." - Charlie and Judy Hadley-Brown
Read more
---