2nd November 2015
Through the generosity of a variety of funders, Trees for Life secured a total of more than £138,500 for this important project.
However, when the plans were submitted to the local council for building warrant approval, they applied more stringent and onerous building regulations than the architects had anticipated, with an additional 19 conditions to be met. This has resulted in an unavoidable delay to the renovation works and has also meant that the cost of the project has increased.
Although Trees for Life successfully raised the funds required to undertake the planned renovations, the additional regulations have resulted in us now urgently needing to raise an additional £19,000 to meet the extra costs involved. We are therefore appealing to our friends, supporters and donors to help us bridge this unexpected funding gap, so that we can realise our dream of a beautifully renovated Athnamulloch Bothy in Glen Affric being used as a strategic base for a substantial new phase in our Caledonian Forest restoration work.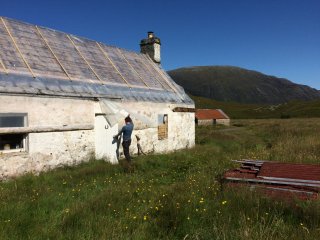 Now in autumn 2015, here's the current status of the project:
We've satisfactorily addressed all of the extra conditions required to obtain the building warrant for the project.
The building contractors – a company local to the area – have begun work on the renovations. They have also have kindly agreed to work during the winter so that the bothy can be ready for spring 2016.
We've scheduled the first volunteer Conservation Week groups that will use the bothy in April 2016, and are planning to hold a special celebration event for the re-opening of the bothy in May 2016.
Restoring the Caledonian Forest at Glen Affric – An exciting new stage
After 6 years of the bothy being unfit to live in, we are now embarking on the unique opportunity to renovate it from its current derelict condition, making it into a warm and welcoming, ecologically-sound centre for our volunteers to use during the years ahead, for the planting of more than 250,000 trees.
Once the renovations are completed, by early spring 2016, we can engage volunteers to embark on the next phase of forest expansion in Glen Affric. Over the next 25 years, our volunteers will plant literally hundreds of thousands of trees, transforming the glen into a haven for wildlife and safeguarding the habitats of some our most threatened species, including the wildcat, red squirrel, pine marten and more