7th March 2016
Our Conservation Volunteering programme is going from strength to strength, with our 2016 schedule offering more places and roles for those wishing to volunteer and help us restore the Caledonian Forest.
Form a deeper connection with our work and become a volunteer with us! Conservation volunteering with Trees for Life offers a rewarding and hugely enjoyable opportunity to restore native forests and wildlife habitats. Our volunteers have planted over 1.2 million trees and we're now working to expand the forests with a million more.
You can get involved with all aspects of our work: in the Tree Nursery at Dundreggan Conservation Estate on a Conservation Day, tree planting across various locations on the Scottish Highlands on a Conservation Week, carrying out surveys as part of the Red Squirrel Re-introduction Program, as well as upcoming Project Wolf, a new reforestation strategy to reduce browsing pressure from deer in and around Dundreggan's semi-natural ancient woodland fragments. Recruitment for our Long-Term Volunteering (LTV) programme is now open, and runs from March to the end of October each year. Almost all of our practical work has been carried out by thousands of volunteers from over 30 countries and we look forward to the next fun-filled season of volunteer participation!
Conservation Weeks for Spring 2016 with spaces remaining include:
There are three main ways in which you can volunteer with Trees for Life: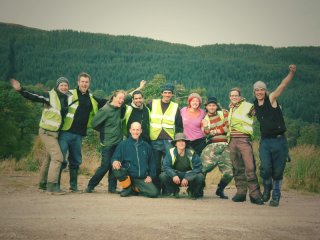 Conservation Weeks
There are 33 Conservation Weeks scheduled for 2016 and provide an opportunity for volunteers from all around the world, of all ages and backgrounds, to help protect Scotland's natural environment.
Book here.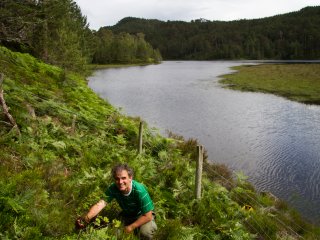 Conservation Days
Our Conservation Days are for people who live locally in the Inverness-shire, mid-Highland or West Moray area. They run fortnightly on a Wednesday in a variety of locations across the Highlands.
Book here.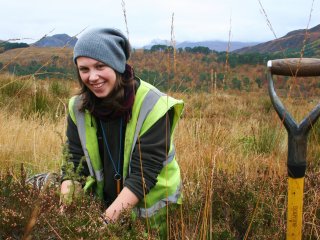 Long-Term Volunteering
The Long-Term Volunteer (LTV) Programme provides over 30 placements for enthusiastic individuals to gain experience in practical conservation work based at our Dundreggan Conservation Estate.
Apply here.