24th October 2014, by Trees for Life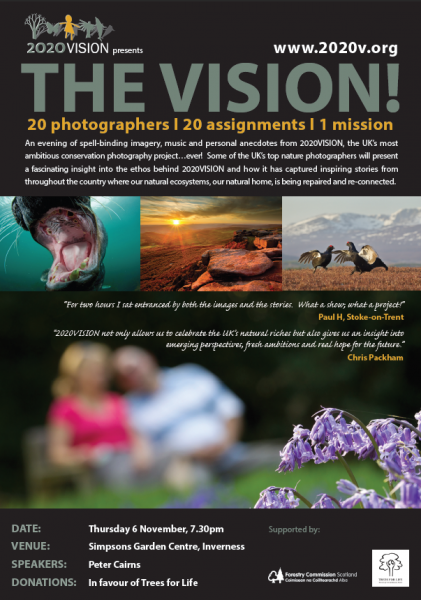 ​We would like to invite you to a very special evening lecture by award-winning nature photographer Peter Cairns. Over the last 4 years Peter has been part of a 20-strong photographic team working on the 2020VISION project (www.2020v.org), a multimedia initiative that tells the story of why wild nature matters - to all of us. 2020VISION also documents some heroic projects underway throughout the UK to repair, restore and re-connect our fragmented ecosystems.

Between November and January, Simpsons Garden Centre in Inverness will be hosting the 2020VISION outdoor street exhibition and to accompany this, Peter will be delivering THE VISION, an hour-long visual journey of inspiring imagery and uplifting stories from the project. As the event is supported by Forestry Commission Scotland, there will be a special focus on the restoration of Scotland's native woodland and what's being done to protect and expand this unique habitat.

Event details: Simpsons Garden Centre, Thursday 6th November, 7.30pm (refreshments served after the talk).

There is no entry charge payable although Simpsons are requesting a minimum donation of £5 which will purchase 1 native tree to be planted in Simpsons' Trees for Life grove in the Scottish Highlands.

Places are limited so if you would like to attend THE VISION, simply reply to info@simpsonsgc.co.uk or contact Andy Howard on 01463 250200 if you would like more information about the event.

We hope to see you there!