13th July 2017, by Main image © Laurie Campbell
A family of beavers found living on a river in the Beauly area in the Scottish Highlands are to be trapped and put into captivity following a decision by Scottish Government Ministers. Trees for Life, the charity which discovered the group, says the family should either stay where they are or be relocated locally.
Film from camera traps set by the conservation experts from the charity in mid-June clearly show the presence of a mother and at least two young kits swimming and playing with their mum. Trees for Life shared news of the discovery with Scottish Natural Heritage and made a case to Scottish Environment Minister Roseanna Cunningham that the family be allowed to stay.
Alan McDonnell, Conservation Projects Manager at Trees for Life says: `It is disappointing that government is already starting the process of trapping this family without considering other options. Whilst we understand that the Minister wants to address the concerns of landowners in Tayside, the situation here is very different and we think it is possible to consult and negotiate with landowners in the immediate vicinity of the family and upstream to find an alternative outcome for the animals.'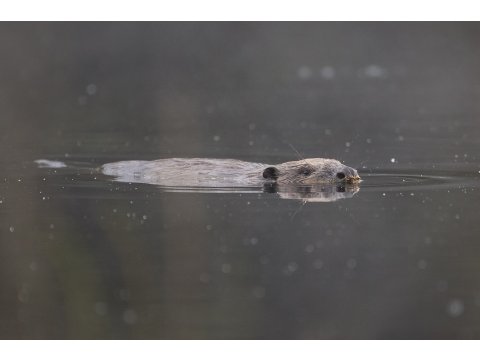 Beavers have sparked controversy and concern from landowners in parts of Tayside where there is intensive arable farming. In contrast, much of the land neighbouring the newly confirmed beaver home in the Highlands is used for livestock farming.
Alan McDonnell says: 'We think these beavers have been active at this site for at least five years without any local concerns being raised. Which just goes to show that in the right location, beavers and other land use interests can co-exist successfully.'
Richard Hartland, local resident: 'Many people in the local community have no idea the beavers are there and they're having very little impact on their surroundings. Why can't they be left alone?'
Shortly after finding the family, Trees for Life wrote to the Scottish Environment Minister to ask that they be left where they are, or failing that, moved upstream into Glen Affric, above the Loch Beinn a' Mheadhoin hydro dam on the basis that they would have minimal impact on land use.
About beavers
Beavers are considered superb ecosystem engineers because they create and manage wetland habitats ­– benefitting insects, fish, bats and birds. Their small dams help regulate water flow. Their felling of trees provides dead wood that benefits many organisms, and stimulates regeneration by causing new shoots to grow from tree stumps.
In Europe, 24 countries have reintroduced beavers, resulting in significant ecological benefits.
The Beavers in Scotland Report presented to Ministers in 2015 by SNH brought together 20 years of research into the environmental and socio-economic impacts of beavers in various locations in Scotland and other European countries. Various positive impacts were identified including for biodiversity and tourism. http://www.snh.gov.uk/protecting-scotlands-nature/beavers/beavers-in-scotland/
Preliminary results of research being undertaken on the impact of populations of beaver in Devon has also shown multiple positive benefits on the local environment including on water quality, wildlife, fish populations and flood risk reduction. http://www.devonwildlifetrust.org/sites/default/files/files/Beaver%20Project%20update%20(LowRes)%20.pdf
In November 2016, Ms Cunningham announced that the Scottish Government was minded to allow beavers to remain in Scotland, following the establishment of two beaver populations in Argyll and Tayside. Ministers agreed that the species will receive legal protection, in accordance with European legislation, and will be allowed to expand their range naturally from the Argyll and Tayside populations. Ms Cunningham also stated that no unauthorised releases would be tolerated and that beavers should be actively managed to minimise adverse impacts on farmers and other landowners.
https://news.gov.scot/news/beavers-to-remain-in-scotland