Andrew David Edmondson's memorial grove
For your 28th birthday, 19th May 1981 - 12th November 2008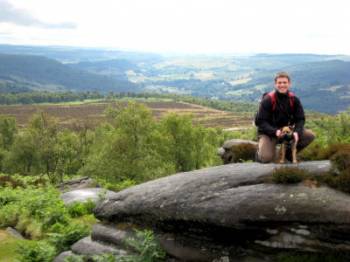 Andrew and Archie
For Andrew, a beloved nephew and cousin, with our love Auntie Anne, Andy and Jacinta
What are you now then?
A thought on the wind?
A balance of spirit and air?
A released mind?
You are more, more than this
Though sometimes seem less,
You are the pain death is
And yet you bless
Let me not intervene,
Mark my shadow where
Only you now have been,
Your spirit is there
Where at best faith carries the heart,
You are both air,
And earth and you are part
Of a disciplined fire,
Let my missing you be
What sometimes prayer
Is when it moves free.
Let me find you there.
from: More than an Elegy by Elizabeth Jennings