A Grove of trees in the Scottish Highlands
Happy birthday to

Mollie Whiteoak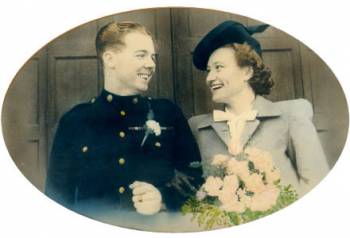 Born Mollie Irene Budgen in Brighton, Sussex in 1923, married Ernest Whiteoak in 1947
Ernest (Ernie) Whiteoak: born 1921, died 1990
Mollie has been many things in her 85 years. She has been a loving and loved daughter and sister; a devoted, adored wife and mother; and now a much-loved granny, great-granny and great-aunt.
Most of all she has been a friend to everyone she meets, always willing and ready to go the extra mile to help, always there with her warm smile and cheerful laugh when they are most needed.
Mollie and Ernie Whiteoak were happily married for over forty years, and if these trees can grow as straight and true they will become a fitting tribute to them for generations to come.
Happy Birthday, Mum, and many more years of happiness and good health!
This wish comes to you firstly from Irene and Jon, with all our love, and your gift will be added to on each anniversary as long as we are able.