Walter Robertson Bissett's memorial grove
24 May 1941 - 18 December 2006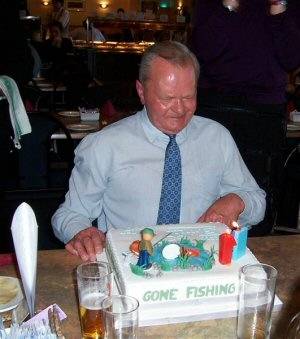 Never happier than when striding out through long grass, rod in hand, jar full of worms tucked safely in his 'gaffer' bag; unfortunately, these fishing trips were too few. Walter had a life-long love of the outdoors. Some of our fondest family memories were spent at The Birks, near Aberfeldy. We would all congregate there, with extended family, for a barbeque and games, then a walk through the woods. Inevitably, we would all end up in stitches, as Walter and his cousin, Derek 'acted the goat'.
Although, he spent his working life as an Electrician, his creativity and passion shone when he worked with wood. The size of the project didn't matter, it was the 'making' he enjoyed so much. He made everything from children's toys to building 2 family homes. In addition to this grove, there will be a tree planted every year as part of the W R Bissett Workshop Award, in recognition of a student or team of students who show inspiring 'making' skills within the Department of Interior and Environmental Design, Duncan of Jordanstone College of Art, Dundee.
It is in the trees, beside the lochs, in the sun and the rainbows of Scotland that we will remember him.
May your line linger long in cool waters, with the sun on your back and a dram in your hand, Dad.
Love always from your family.