Sarah Cooper and Rob Cartlidge's wedding/partnership grove
8th September 2007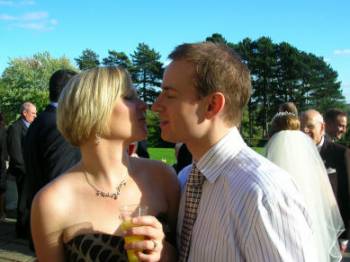 Hi All,
We are really looking forward to celebrating our wedding with you in September.
We would like to ask you to help us do something a little bit different: so, we're inviting you to give us a tree!
When we saw the Trees for Life tree planting schemes, we felt that it suited us perfectly! In giving something back to this environment we would feel like we are doing our own little bit for the planet.
Weddings create a lot of travelling and we are keen to try and offset the carbon emissions, and hope that this would go some way towards that, whilst also conserving some of the UK's natural habitat for future generations.
We have already set up a small grove and by giving a small donation you're helping us to add more trees. Regenerating the native Caledonian forest is, without doubt, a worthwhile cause and one we hope you will join us in supporting.
We are hoping to visit our little grove at some point soon as it's a little closer to home than other similar projects in other parts of the world.
All your donations are very much appreciated!
See you all very soon
Rob and Sarah