Arthur Gunn's memorial grove
9th November 1926 - 21st November 2009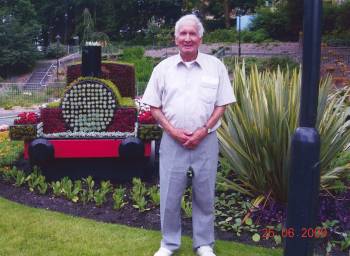 These trees are planted in memory of 'Arthur Gunn'. He was the kindest, caring and most loving husband, father, brother, in-law, uncle and friend you could wish for, and all our lives have been enriched by knowing him.
May the trees in his grove reflect the strength he showed throughout his life, and the shelter they provide give refuge to the birds and animals he loved so much.
In Loving Memory of Arthur Gunn
The Farewell
He is gone.
You can shed tears that he is gone,
Or you can smile because he has lived.
You can close your eyes and pray that he'll come back
Or you can open your eyes and see all that he has left.
Your heart can be empty because you cannot see him
Or you can be full of the love you shared.
You can turn your back on tomorrow and live yesterday
Or you can be happy for tomorrow because of yesterday.
You can remember him and only that he's gone
Or you can cherish his memory and let it live on.
You can cry and close your mind, be empty and turn back
Or you can do what he'd want, smile, open your eyes, love
and go on.
Uncle Arthur meant the world to me. He had a great appreciation of nature and all its birds, plants and trees. He believed in protecting and preserving the environment and I know he would have loved the idea of restoring the natural Caledonian forest here in the Highlands.
Loving god-daughter Mandy and husband Gary, Jade and Kyle.