Marine P060782P Jonathan Wigley's memorial grove
05.07.85 - 05.12.06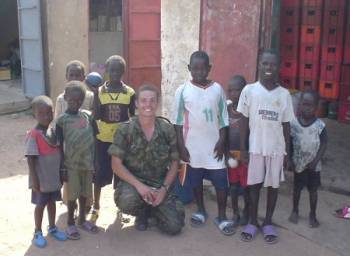 Much loved by all who knew him
On Tuesday December 12th 2006 our lives were changed forever when Jonathan was killed by 'friendly fire' at Garmsir, Afghanistan. Jonathan's enthusiasm and love of life touched all those who met him.
He was intelligent, compassionate, strong, determined and always saw the lighter side of things.
At the age of 10 he discovered the 'Carry On' films and was soon able to quote huge chunks of script
and mimic the voices of the actors - Sid James's laugh and Kenneth Williams's 'Oooh Matron' and 'Infamy, infamy, they've all got it in for me!' were phrases I heard on a daily basis.
Those of us who are left to 'carry on' think of you and miss you every day.
SUNSET and evening star,
And one clear call for me!
And may there be no moaning of the bar,
When I put out to sea,
But such a tide as moving seems asleep,
Too full for sound and foam,
When that which drew from out the boundless deep
Turns again home.
Twilight and evening bell,
And after that the dark!
And may there be no sadness or farewell,
When I embark;
For tho' from out our bourne of Time and Place
The flood may bear me far,
I hope to see my Pilot face to face
When I have crost the bar.
Alfred Lord Tennyson
Do not stand at my grave and weep,
I am not there, I do not sleep.
I am in a thousand winds that blow,
I am the softly falling snow.
I am the gentle showers of rain,
I am the fields of ripening grain.
I am in the morning hush,
I am in the graceful rush
Of beautiful birds in circling flight,
I am the starshine of the night.
I am in the flowers that bloom,
I am in a quiet room.
I am in the birds that sing,
I am in each lovely thing.
Do not stand at my grave and cry,
I am not there. I do not die.
Mary Elizabeth Frye
May the trees we plant in your memory be as strong and beautiful as you were.
love always
Mum xxx