Michael St John Fancourt's memorial grove
17th May 1925 to 14th June 2007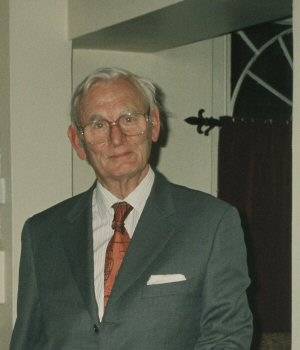 In memory of my father who relished life and took all it offered with both hands. A man who liked adventure and pushing at the boundaries be it flying, rally car driving, sailing, scuba diving, airships, or even canoeing at 80 on the Zambezi! Possessing an enquiring mind, he was fascinated by science, nature, the universe and read extensively. A Fleet Air Arm pilot, personnel officer and teacher whose naval background and practical "make do and mend" approach never left him. A modest sociable, friendly and family orientated man, he was never happier than when in the company of others. He offered, advice and help in a measured way that I (and many others) appreciated and valued. As a lover of nature and the environment, he found great peace and enjoyment in being in the elements and loved being by the sea, on a river, in woods, near some hills or simply pottering in the garden. Now he is with God and I like to think enjoying the company of friends and relatives, still learning and having fun. We all miss him greatly especially Mum and I think he would approve of the trees. He lives on within us.