Bill Pallister's memorial grove
24 august 1956 23 october 2007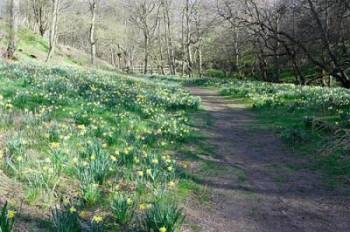 Daffodils at Farndale, North York Moors.
I dedicate this grove to you my precious friend, Bilbo, knowing how much you loved nature, the open countryside, peace and tranquillity. May your trees flourish and grow strong within the forest, providing shelter for birds and small woodland animals and dappled shade on warm sunny days for dedicated walkers like you.
A very private, gentle and caring man, I feel honoured to have known you, and privileged that you trusted me enough to share your most intimate thoughts and experiences. My respect for you was immense. You enriched my life, with the joy and laughter you brought. I loved every moment spent with you and remember times when we laughed so much we cried. Your sharp wit, dry sense of humour and your sarcasms were second to none.
I miss you Bilbo. I hope you find solace in everlasting peace. May your spirit roam free through the heathers, hills and moors you loved so much.
Your loyal friend,
Angela