A Grove of trees in the Scottish Highlands
John Donald Holden

A Lover of the Natural World & solver of Crosswords.


19th/Aug/1937 - 25th/June/2010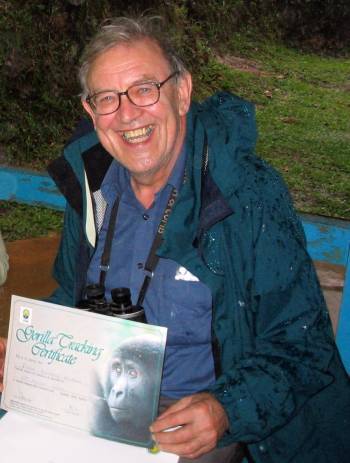 We have all lost a good friend and a fellow enthusiast, for that is what he was to so many people, he was a great mentor to all of us and had a natural talent to be able to come down to your level who ever you were. I myself have only known him well for about 16 years and in that time he has taught me so much and inspired me to learn much more than I ever would have. I always wished that I had known him when I was a child growing up, as I know for certain he would have inspired me then also. You see for me Donald was like the uncle or neighbour that I never had, that awesome font of knowledge and walking encyclopaedia that all children need when they are struggling with the answers to home work that no on else seems able to answer or even have a clue about. From experience I had many of those times!
He had a wonderful intellect and a talent to be able to share it on your own level.
Yet I feel so glad and privileged to have known him as I did, as I feel sure everyone does; to have shared the times together that we had and the days out that we had though he was usually late, but then so was I, yet he always blamed me.
You see you could talk to Don about anything; yes we had our differences as we all do but even these we could discuss and still enjoy the discussion. My memories of him just go on and on, there are so many, it would be easy to write a book and call it 'Adventures with Don', though I know what he would say to that, "Buggeroff"!
I remember one day when I had been sea fishing at Conwy with colleagues from work and Don had asked me for some Mackerel. So on the way home I called up to Belthorn and dropped him some off, I began telling him about the day we had had, about the sea birds and the different fish, then I explained that we had caught several Dogfish and I had gutted them on the boat and couldn't help notice that they were all female but there were parts of their insides that I could not name. What was this and that I wondered? "Wait there" he said, and disappeared up stairs. I could hear him clambering and banging about and a couple of minutes later he re-appeared with an old dusty green book in his hand, what was it, The Anatomy of a Dogfish! I think we spent the next hour drinking coffee and perusing its pages.
Yes there are so many memories of him, the times he came to visit and batted our Border Collie on her head with the Guardian, "Stupid animal" he would say, "What goes on in that dogs head, Not A Lot". Yet I know he was very fond of her and she was of him, he was always her favourite person. He was the only person that she would ever stand and wait, looking out the window for, till he arrived.
The holidays that we had together and the amazing things we saw on them, from Gorillas in Uganda, (he never thought he could make it) Hummingbirds in Cuba, (don't mention the lost luggage) Toucans in Venezuela, (the jungle swallowed him up) the Okavango Delta (he wouldn't get off the boat but he did go for a paddle) and the Leopards in Zambia but to mention a few. Now that's a tale, watching Leopards at dusk in the Luangua valley in an open topped Land Rover, on the way back to camp the heavens opened and we got thoroughly soaked to the skin. An hour later, back in camp when we had dried off and we were sat having a beer, what did he say, "That was bloody great"! Yes he had many sayings like that and many talents, for I do not think I can end without mentioning the time in Kenya, in the Mara to be precise, that whilst sitting round the camp fire one night he sang the Hippopotamus song all the way through, fantastic.
John Donald Holden, our uncle, neighbour, kindred spirit, mentor and most of all friend, we will truly miss you Don. You left such an impression on me that I have given my own son the same initials in his name in honour of you. Thank you Don.
With Love and Sympathy,
Dave, Sandra and Joseph