A Grove of trees in the Scottish Highlands
Gerry's Grove

Gerry O'Hagan


February 1938 - April 2011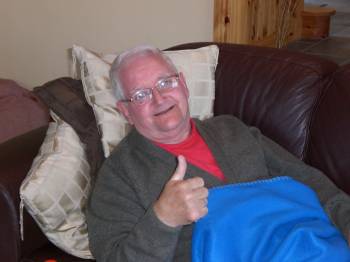 As part of the Caledonian Forest Regeneration Programme,
this grove of trees is planted with deepest love and gratitude for the life of Gerry O'Hagan.
Being a joiner Gerry worked all his days with wood and loved the natural world, surrounding us on the croft
not only with sheep, hens, ducks and ponies but with dogs, ferrets and pigeons. He loved his garden and planted fruit trees he even managed to grow peaches and grapes in the Highlands - and as he loved to cook he grew many vegetables for making his famous pots of soup. You could drop in at any time of year and be guaranteed a plate of soup even in summer!
He loved working on his croft, building many things with wood and close to his heart were his beloved Fergie and Massey Ferguson 165 tractors and his little blue Landrover. But these were distant second to his love for his precious family and his pride at being an old Argyll and Sutherland Highlander.
He loved life and lived it to the full, although he suffered from ill health for over 25 years, and counted it a blessing that he could help others with his words of wisdom, his time, his love and support and with his Glasgow sense of humour - which was legend. Even during his most painful times, which he bore with such fortitude, the wistful notes of his mouthorgan could be heard floating around the croft.
I hear them still.
On behalf of his family and his countless friends who felt privileged to have had him in their midst,
I dedicate these trees to his memory.
Planted by his devoted wife Leslie,
for his dearest sons and grandchildren
Andrew and Nell,
Charles, Claire and Shannon,
Gerry, Rory and Ryan,
Michael, Evie and Michael Junior.
The following poem written by Seamus Heaney was read at Gerry's funeral.
It was read by Gerry's writer son Andrew, a close friend of Seamus.
It is a most appropriate poem to mark the planting of trees into the Scottish soil, especially for Gerry.
Digging
Between by finger and my thumb
The squat pen rests; snug as a gun.
Under my window, a clean rasping sound
When the spade sinks into gravelly ground:
My father, digging. I look down
Till his straining rump among the flowerbeds
Bends low, comes up twenty years away
Stooping in rhythm through potato drills
Where he was digging.
The coarse boot nestled on the lug, the shaft
Against the inside knee was levered firmly.
He rooted out tall tops, buried the bright edge deep
To scatter new potatoes that we picked,
Loving their cool hardness in our hands.
By God, the old man could handle a spade.
Just like his old man.
My grandfather cut more turf in a day
Than any other man on Toner's bog.
Once I carried him milk in a bottle
Corked sloppily with paper. He straightened up
To drink it, then fell to right away
Nicking and slicing neatly, heaving sods
Over his shoulder, going down and down
For the good turf. Digging.
The cold smell of potato mould, the squelch and slap
Of soggy peat, the curt cuts of an edge
Through living rooms roots awaken in my head.
But I've no spade to follow men like them.
Between my finger and my thumb
The squat pen rests.
I'll dig with it.
Seamus Heaney