A Grove of trees in the Scottish Highlands
In loving memory of a wonderful husband and dad.

Robert Mann Houston


23/05/1926 - 14/01/2010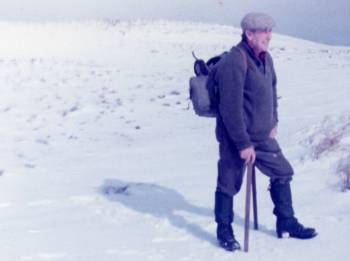 Bob loved the Scottish mountains,
in particular Glencoe, and Glen Affric,
not forgetting the far NW of Scotland.
Before the family arrived, Bob and I had many happy weekends exploring new parts of our lovely country.
We also went skiing in Glencoe and Aviemore with our friends
and I have lots of wonderful memories of these days.
From his wife, Kate.
His stories of the camping trips he had with his friends,
including those from the Lomond Mountaineering Club,
and in later life, his own family, were wonderful to hear.
I myself had the pleasure of many happy holidays
exploring the far NW of Scotland with my dad,
Sutherland being a particular favourite.
Over the years we shared many happy ascents on the Scottish hills,
and the love of the Scottish mountains
is something I have to this day.
From his son, Iain.
His daughter Sheena, was never a hillwalker or climber,
but always loved his stories from the good old days.