A Grove of trees in the Scottish Highlands
Defender of the Natural World

Farley McGill Mowat OC


1921-2014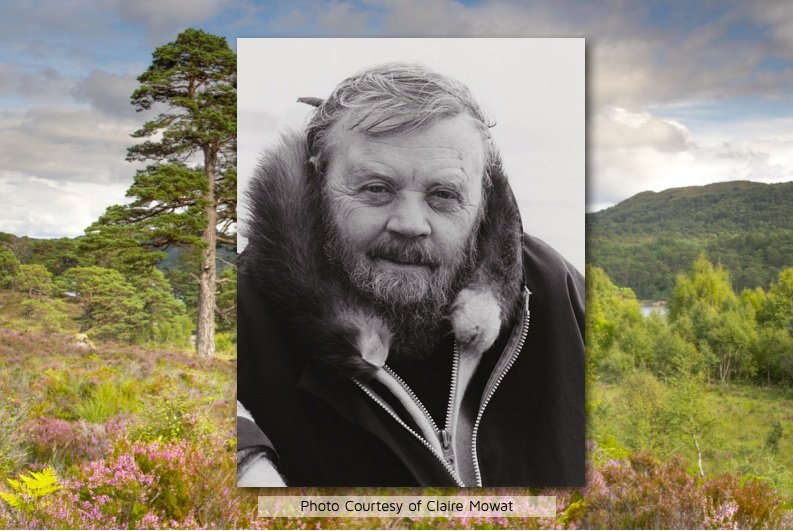 Farley McGill Mowat, OC, B.A., D.Litt (1921-2014) - one of Canada's pre-eminent and most widely-read authors, was internationally known as an ardent conservationist and advocate for the environment.
Mowat authored and/or edited 41 books as well as numerous articles. His works have been translated into 52 languages and his books sales exceeded 17 million copies worldwide. His short stories & articles appeared in a variety of publications including the Saturday Evening Post, Macleans, Atlantic Monthly & other magazines.
Farley has been described as a master story teller; his writing style characterized as subjective non-fiction.
He was a passionate advocate for the environment and from an early point in his writing career was eloquent in his indictment of mankind's exploitation of both human and non-human life on this planet. One of his best known publications 'Never Cry Wolf' has been credited with helping dispel the myth of wolves as vicious blood-thirsty creatures.
Farley was born in Belleville, Ontario, Canada on the 12th May 1921. He was the son of Angus and Helen (nee Thomson) Mowat. Farley spent his early youth living in Trenton, Belleville and Windsor, Ontario, then moved to Saskatoon, Saskatchewan and later Richmond Hill, Ontario. During the Second World War he enlisted to serve his country and served as an officer with the Hastings and Prince Edward Regiment (the 'Hasty Ps') in Europe, primarily in the Italian theatre. Following the war he made the decision to devote his life to writing.
Over the ensuing decades Farley would produce a string of best sellers. The list of his publications includes such popular works as 'People of the Deer', 'Never Cry Wolf', 'A Whale for the Killing', 'And No Birds Sang' and 'Rescue the Earth.'
Mowat would receive numerous awards and accolades during his lifetime; he was the recipient of numerous literary awards as well as nine honourary degrees. In 1981 he was made an Officer of the Order of Canada. Other forms of recognition of his achievements included the naming of a primary school after him in a suburb of Ottawa, Ontario and having a ship named in his honour by the Sea Shepherd Conservation Society.
He was married twice; first to Frances Thornhill and then to Claire Wheeler, who was his loyal partner for 54 years. Farley and Claire lived for many years in Port Hope, Ontario, where the couple divided their time between their Ontario residence and a farm property on Cape Breton Island, Nova Scotia. Mowat had two sons David and Sandy and three grandchildren. He also had a sister Rosemary and brother John.
Mowat was an inveterate traveler, with a passion for remote places and peoples. He lived or visited almost every part of Canada and many other lands (including Scotland).
Farley passed away on May 6th, 2014 at his home in Port Hope, Ontario and is interred in the cemetery of St. Marks Anglican Church, in Port Hope, ON.
In his autobiographical book, "My Father's Son", published in 1993, Farley quoted from a letter he had received from his father "You've got everything in hand for the living of a very full (and probably impecunious) life, fellar." He most certainly did.
Books by Farley Mowat
People of the Deer (1952) Tundra (1973)
The Regiment (1955) Wake of the Great Sealers (1973)
Lost in the Barrens (1956) The Snow Walker (Death of a People) (1975)
The Dog Who Wouldn't Be (1957) Canada North Now (1976)
Coppermine Journey (1958) And No Birds Sang (1979)
The Grey Seas Under (1959) Sea of Slaughter (1984)
The Desperate People (1959) My Discovery of America (1985)
Ordeal by Ice (1960) Virunga (Woman in the Mists) (1987)
Owls in the Family (1961) The New Founde Land (1989)
The Serpents Coil (1961) My Father's Son (1993)
The Black Joke (1962) Born Naked (1994)
Never Cry Wolf (1963) Aftermath (1995)
Westviking (1965) Rescue the Earth (1998)
The Curse of the Viking Grave (1966) The Farfarers (The Alban Quest) (1998)
Canada North (1967) Walking on the Land (2000)
The Polar Passion (1967) High Latitudes (2002)
This Rock Within the Sea (1968) No Man's River (2004)
The Boat Who Wouldn't Float (1969) Bay of Spirits (2006)
Siber (The Siberians) (1970) Otherwise (2008)
The World of Farley Mowat (1970) Eastern Passage (2010)
A Whale for the Killing (1972)