A Grove of trees in the Scottish Highlands
Wandern Schottland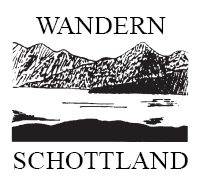 Wir veranstalten seit 1994 Wanderreisen in den schönsten und abgelegensten Gebieten der schottischen Highlands und Hebriden-Inseln. Alle unsere Teilnehmer wissen wie sehr wir die schottische Landschaft und Umwelt lieben und schätzen. Wir halten Trees for Life für eine visionäre und inspirierende Organisation, die sich tatkräftig und praktisch für den Erhalt und die Ausweitung des ursprünglichen kaledonischen Waldes einsetzt. Wir wollen mit unserem Corporate Grove (einem durch Wandern Schottland finanzierten "Hain" im ausgedehnten Trees For Life Waldgebiet in Dundreggan) das Projekt Jahr für Jahr unterstützen. Auch unsere Teilnehmer können mitmachen und einen persönlichen Beitrag zum Erhalt des kaledonischen Waldes leisten. Für jede gespendete 6 Pfund (ca. 7 Euro) wird ein einheimischer Baum in unserem Hain gepflanzt..
So gibt es irgendwann einen kleinen Teil des neuen, kaledonischen Waldes, der durch Wandern Schottland, seine Teilnehmer und Mitarbeiter entstanden ist - eine schöne Vorstellung!
Wenn Sie mitmachen möchten - Klicken Sie auf den unteren Link "Add Trees to this Grove"- der Spendenvorgang dauert nur ein paar Minuten. Man kann den Namen und eine kleine Nachricht mit Ihrer Spende posten. Wenn Sie Fragen zu Trees for Life oder dem Spendenvorgang haben, können Sie uns gerne kontaktieren.