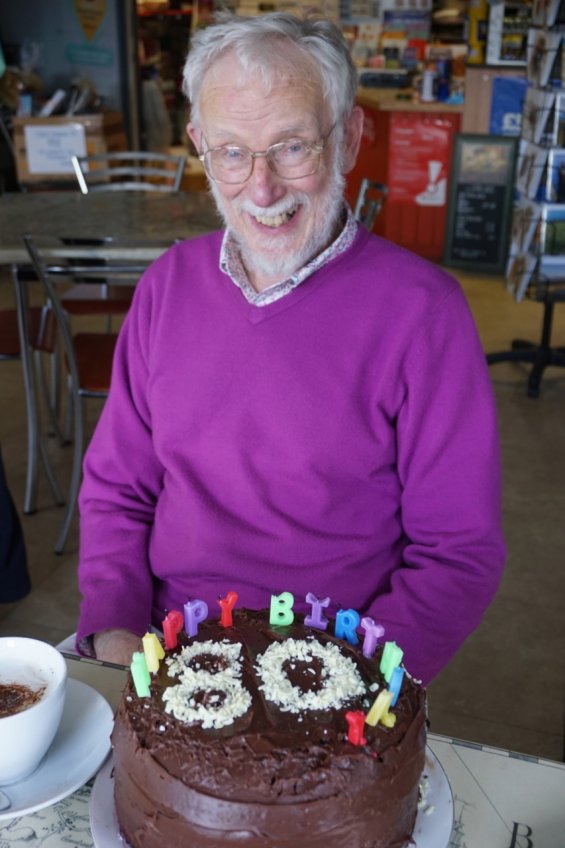 Not everyone gets two birthdays! This is the "official" one with a public appearance and delicious cake. Wishing you all the best!
Donated by Shona
10th July 2017
...young people today express such anti-social behaviour at the table.....!
Donated by Mhairi
10th July 2017
A great birthday celebration! Wishing you many more years of tree planting! Your good health!
Donated by Shona
10th July 2017
Happy Birthday and thanks for all the little walks to look at trees! x
Donated by Bracken
6th July 2017
Happy 80th birthday Uncle Ernie. Hope you have a wonderful time. Love and hugs from Fiona, Magnus, Morven and licks from Callidh the dug xxx
Donated by Fiona and Magnus
4th July 2017
Hey Ernie - Haps Birthday and keep growing.... xx
Donated by Simba
4th July 2017
Sharing your passion for trees Wuss keeps protects the little growing oak - happy birthday from the wee London cat x
Donated by Wuss
4th July 2017
(Great) Uncle Ernest Happy 80th Birthday! Have a great day. Hope to see you in the not too distant future. I can't wait to visit the grove of trees one day. Lots of Love The Cox Family in Bristol
Donated by David, Anna, Benjamin & Annabel Cox
3rd July 2017
Hi Ernest, wishing you a very happy 80th birthday
and glad we can join in the celebration in this way.
We know how much a project like this means to you.
Love from us all.
Donated by Michael, Fanny, Matthieu and Clara
29th June 2017
This should be a good counterbalance for Tory misrule.
We both send you all the best for a great birthday on the big day.
Love Michelle and Brian
Donated by Brian and Michelle
29th June 2017
Have a great celebration both on the day and for the year and many years to come.
Love Derek and Ann
Donated by Ann and Derek
29th June 2017
Wishing you a very happy birthday! love from the Cheeseman
Donated by David Cheeseman
9th June 2017
Donated by Sheila and the weans
8th June 2017
Ernie has always been a natural rambler (both verbal and by foot). Through these journeys he has undertaken many acts to improve the world around him. One of these has been a commitment to tree planting - through formal volunteer schemes and also in nurturing and planting on home grown saplings. This grove is to celebrate his 80th birthday and continued endeavour...