Do you have a group of people that would like to volunteer together on a Conservation Week in the Highlands of Scotland?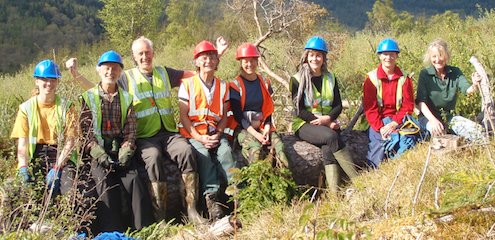 Are you part of a college or university course studying environmental subjects; a charity whose members would benefit from a week spent amongst nature; or a member of a social club with an interest in the outdoors?
We provide specialist group Conservation Weeks with two experienced and knowledgeable leaders, accommodation, all meals and transport to and from Inverness. Your group will visit stunning Highland locations, learn about the conservation work of Trees for Life, develop practical skills and contribute to restoring the ancient Caledonian Forest.
Contact us on 01309 691292 for details of our tailor-made group Conservation Weeks
The Homeless Action Resource Project (HARP) have been sending staff and clients on our Conservation Weeks since 2009.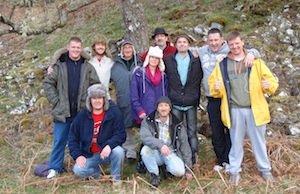 "Trees for Life do a fantastic job of making everyone feel welcome and at ease. Taking the clients out of the town and away from their problematic lifestyles does more for their recovery and rehabilitation than any kind of work that can be done with them in the office. The experience of spending a week in the Highlands is so inspiring for them and the number of clients who have pushed on from this and reformed themselves blows any national statistic out of the water."
Mike Relton, Team Leader, HARP
Students on The University of Glasgow's 'Environmental Stewardship' course took part in a specialist Conservation Week as a key element of their 'Restoration Ecology' field unit. Staying at Dundreggan Lodge, which has meeting space facilities for study sessions, their week is split between practical conservation work and developing plant ID and survey skills.

"Coming to Dundreggan as opposed to any other site to practise surveying techniques, means that I can see how this fits into the bigger picture of forest conservation."
Sophie Brett, student
Trees for Life is really inspired by partnering with groups like these. The forest restoration work on our group Conservation Weeks provides therapeutic experiences for inspiring charities such as HARP, as well as contributing our skills and knowledge to the development of young conservationists.
If you would like to bring a group we have a range of ways that you can get involved. Please contact Tom on 01309 691292 or email tom@treesforlife.org.uk to find out more.