Key project outcomes
The work is funded for 2 years from March 2018.
The CPR Project aims to:
understand the current ecological health of the Caledonian Pinewood remnants across Scotland
assess the resilience of these remnants to future threats such as disease and climate change
work with the landowners of these remnants to understand the difficulties they face when attempting to manage them
work with landowners and project partner organisations to find better ways to work together on pinewood management
understand how new forestry grant schemes can be more attractive to landowners with Caledonian Pinewood remnants
bring degraded Caledonian Pinewood remnants into management which enables them to grow and thrive.
The legacy of the project will be a series of pinewood management plans that landowners can implement in the medium to long term, thus restoring and protecting Caledonian Pinewood remnants, and improved understanding of these unique woodlands.
Project area
We will initially concentrate CPR work on updating the Caledonian Pinewood Inventory (CPI) sites. The CPI was an assessment of pinewoods across Scotland completed by Forestry Commission Scotland in the mid 1990s based on the then available knowledge base. After this we will look to extend the work to pinewood remnants that, for various reasons, are missing from the CPI.
Map of currently known CPI sites - click to download.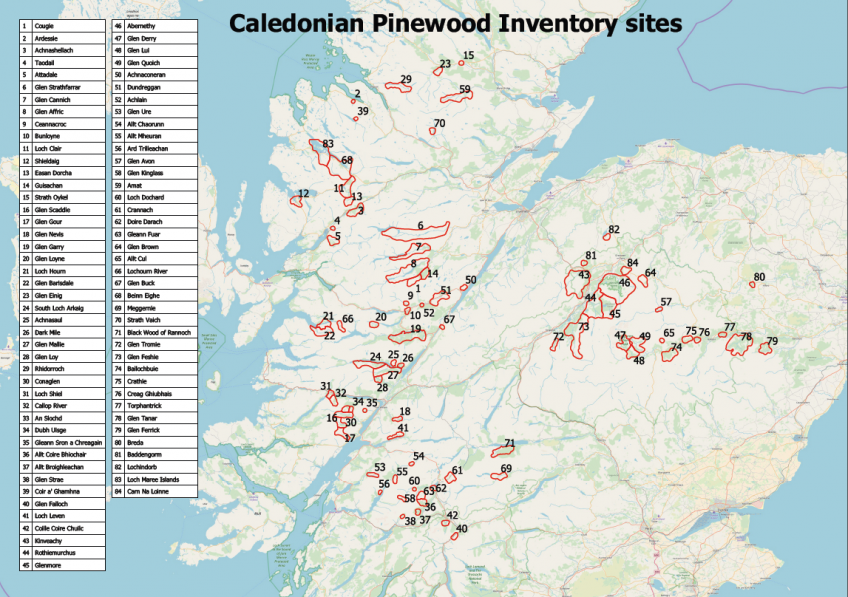 ​Lead staff
Trees for Life Project Manager, Fiona Holmes, will work with partner organisations to ensure the project brings together the best contemporary science and understanding about restoring and managing remnant pinewoods. In addition, she will work with SLE to develop relationships with various private landowners of remnant pinewoods.
Trees for Life Project Officer, James Rainey, will concentrate on developing ecological and resilience survey methodologies, completing the field surveys, and writing up woodland management proposals.
Peter Lowe, Senior Outreach Advisor for Woodland Trust Scotland will work with Fiona to coordinate and focus WTS efforts towards the project success, which will include the assistance of two WTS Outreach Advisors, Alan Crawford and Alasdair Firth who are already working in the ancient woodland field across the Highlands.
For further information about the project, contact Fiona Holmes on 01309 691292 or fiona@treesforlife.org.uk
Our partners and funders
As well as working in close partnership with Woodland Trust Scotland, we will also have the help of Scottish Natural Heritage, Forestry Commission Scotland and Scottish Land and Estates.
The project has been made possible by grant funding from Esmeé Fairbairn Foundation, Ernest Kleinwort Charitable Trust, Garfield Weston Foundation, HDH Wills Charitable Trust and the Paul and Louise Cooke Endowment as well as generous donations from many of our individual supporters.