Here is a round up of all the latest news from the autumn season at Dundreggan.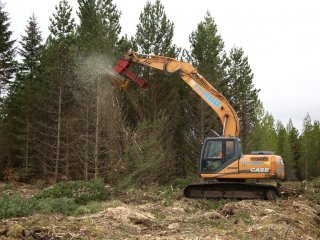 Mire restoration
In an exciting development, work has begun this autumn on the restoration of parts of the non-native commercial forestry plantation at Dalreichart in the southwest of Dundreggan back to natural mire conditions.
Funded by Scottish Natural Heritage (SNH) through their Peatland Action Fund, this involves the clearance of 28 hectares of non-native conifers (lodgepole pine and Sitka spruce) by mulching them. A special head on an excavator machine shreds the trees into small pieces, distributing them about the site as it does so, and filling in or blocking drainage ditches and furrows that were ploughed when the trees were planted. The mulch should not be a barrier to sphagnum mosses and other plants that will flourish once the trees are removed.
This forms part of our larger long-term project for the restoration of the entire 300 hectare plantation back to native woodland and mire habitats, with other elements of that including ring-barking of Sitka spruce where it has been inter-planted with Scots pines, the extraction of non-native timber where that is economically viable, and the planting of native, mainly-broadleaved trees. The mulching will continue for at least another two months, and is part of a pilot programme funded by SNH to pioneer this type of mire restoration in Scotland.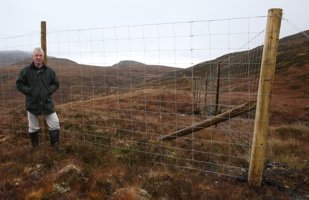 New dwarf birch fenced exclosure
At the end of August, fencing contractors erected a new deer fence around an area of 3.5 hectares on the northwest slope of An Suidhe, near Eve's Road in the north of Dundreggan, for regeneration of the dwarf birch there.
This is the third exclosure we've erected for montane scrub restoration and the protection of dwarf birch at Dundreggan, with the others having been done in 2002 and 2010.
The new area has been selected because it contains drier sloping ground with heather on it, together with existing, but overgrazed, dwarf birch plants – this appears to be the habitat that dwarf birch grows the best in.
The new fence actually adjoins the 2010 exclosure, being situated immediately to the south of it, and we plan to carry out some detailed monitoring of the site, together with some experimental work there including the planting of some dwarf birch trees that have been grown in our nursery.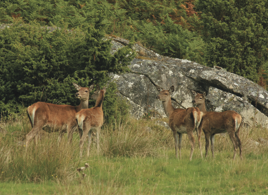 Deer impact assessment underway
One of our main objectives at Dundreggan is to achieve natural regeneration at the top edge of the existing native woodland without the need for fencing the area. Key to the success of this strategy is reducing deer numbers and we've been making steady progress with that each year.
In 2009, specialist consultants from a company called Strath Caulaidh carried out a detailed survey of deer impacts for us, including dung counts and a vegetation grazing assessment, and their results were used to help draft our current five-year Deer Management Plan.
Strath Caulaidh have now begun a repeat of their survey, using the same methodology and survey points, to see what difference our management of the deer has made, and we expect to receive their report in the middle of next year. The results will then help to inform the next five-year Deer Management Plan for the estate.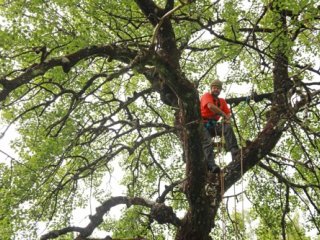 Further canopy research by Plymouth University
In September Steve and Sarah Burchett from Plymouth University brought another group of eight students plus a technical assistant to continue the pioneering work they've been doing in the canopy of Scots pines and oaks on Dundreggan since 2011.
They spent a week carrying out surveys of the invertebrates and lichen populations at various heights on the trees, and also offered a day of training in canopy access techniques and sampling methodologies to some of our staff and long term volunteers.
They are planning to return next year in both May and September to continue the work, and we're also hoping they will install a permanent canopy platform in one of the trees on the estate.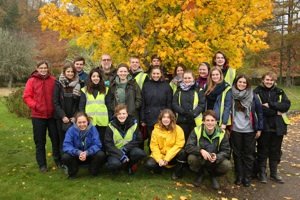 Bielefeld students return
In October, Andreas Stockey brought students from Oberstufen-Kolleg Bielefeld to Dundreggan for the sixth year in a row. The students took part in conservation activities in the nursery and planted trees in Allt Fearna, as well as spending time learning about the forest ecosystem and the work of Trees for Life.
On the basis of their work with us over the last six years, the College entered and won an Eco-Award competition out of a long list of more than 70 college entries from North-Rheine-Westfalia in Germany.
Andreas has donated £200 to Trees for Life for a firebowl at Dundreggan which should prove a popular addition to the equipment list! This will allow groups visiting to create a focal fire outside, virtually anywhere and eliminate the problems associated with scorching the earth and the fear of stray embers damaging our polytunnels.
Thank you, Andreas and Obertufen-Kolleg Bielefeld!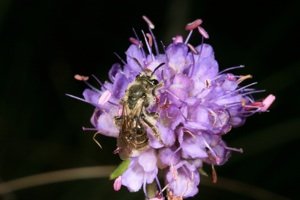 Rare mining bee at Dundreggan
Friends may know that the rare mining bee (Andrena marginata), the scabious mining bee, had previously been seen on a grassy bank close to Dundreggan Lodge. Having been found there in 2007 by local naturalist Jane Bowman, the bee was not seen in 2010 or in subsequent years.
This year, things were looking good as the habitat was in great condition and mid-summer weather was very good – warm and sunny. However, the main emergence time for the bees is August and we had one of the wettest, coldest Augusts on record! Sadly, no mining bees were recorded…until late September when group leader, Russell Miller, was looking for mammal signs along the River Moriston with volunteers.
He saw a mining bee on a scabious flower and immediately identified it as A. marginata. A photograph was sent to the national expert who agreed the identification. This is great news as it confirms the bee is still on Dundreggan and adds a new dot for the species in Glenmoriston.
We still don't know much about the way new colonies of the bee are established, or what distance bees forage for pollen away from their nest sites, but this site is the closest recent sighting we have to the previous aggregation of nests at Dundreggan Lodge. Let's hope for better weather next August and more bee sightings.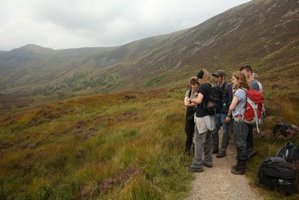 Staff and volunteers visit Creag Meagaidh
In August, a group of staff and volunteers from Dundreggan and Findhorn visited Creag Meagaidh National Nature Reserve, managed by Scottish Natural Heritage (SNH).
We met with the NNR management team including the Site Manager Rory Richardson. He gave a presentation full of personal passion about Creag Meagaidh and SNH's work there to reduce deer numbers and encourage natural regeneration of a native birch forest. This has close parallels with Trees for Life's proposals at Dundreggan and we had a most interesting discussion with Rory as the morning went on.
We also looked at a small run of river hydro-electricity scheme newly installed on the NNR – again something that Dundreggan can learn good lessons from. A short walk up to a fantastic view point and lunch spot capped a most interesting and enjoyable day.
Trees for Life needs to keep up our conversations with partners like SNH doing similar work, and Rory provides an example not only of exemplary deer management but also involving the local community in the life of the NNR.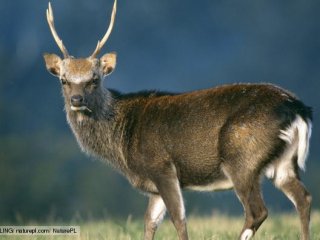 Sika licence granted
One of the most important management operations at Dundreggan is the annual deer cull. Without controlling deer in this way, we have no hope of creating the right conditions for regenerating trees and montane scrub without fences.
We have detailed information on the impacts of deer on the vegetation at Dundreggan from baseline surveys carried out soon after Trees for Life took on the estate and it is abundantly clear that deer browsing is suppressing tree growth virtually throughout the estate.
The job of reducing this pressure is Allan Common's, our Project Supervisor at Dundreggan. Allan has a long association with Dundreggan having been the stalker for previous owners. His knowledge of the ground and the behaviour of deer is second to none, and with the help of fully trained and licenced volunteer stalkers, he has already completed the first part of the cull (stags) and has now moved his sights on to the hinds.
We have also successfully sought a licence to shoot not-native sika deer at night using spotlights. Sika deer are particularly difficult to stalk and night shooting is recognised as the most successful strategy. The work involves early mornings, late evenings and long days in all weathers on the hill, sometimes necessitating lying prone on wet ground for long periods.
Once shot, the carcasses need to be processed on the hill (gralloching) and in the larder where the deer are prepared for the game dealer. Allan is trained to maintain the highest standards of hygiene and carcass preparation for deer that will end up in the human food chain. Most importantly though, his work is key to regenerating the Caledonian Forest at Dundreggan.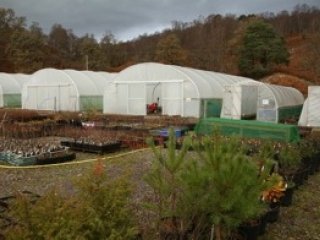 Dundreggan tree nursery grows
In order to expand our capacity to grow trees from local provenance seed at Dundreggan, and in order to develop further important aspen propagation methods, we have recently invested in two new polytunnels, installed alongside the existing ones in the nursery area.
Northern Polytunnels were the suppliers of the tunnels and they were put up at the beginning of November in superb weather - cold and clear with no wind! The polytunnels still need to be connected to an electricity supply and a water supply that will be fed from a large water tank behind the tunnels. The latter will hopefully reduce the number of anxious weeks we have when dry weather limits our ability to water growing trees in the nursery!
A new area of hard standing in front of the tunnels has been installed by local contractor (and Trees for Life neighbour) John Grant, to an excellent standard. Once fully operational, we should be able to supply trees for more and larger projects with partners such as Forestry Commission Scotland.
We are also planning to create space for indoor propagation of aspen, coaxing the trees to produce flowers in an environment where we can harvest any seed easily. Hopefully, this will expand our ability to supply aspen to many more planting schemes and help to add colour to the Scottish autumn scene!

Thank you again for your commitment to Trees for Life, and to Dundreggan. Your support is very valued and we hope that this update gives you an insight into what your donations are achieving.
Date for your diary: Saturday 2 May 2015 - our next event will be held at Dundreggan. We will send you more information with the next edition of the Friends of Dundreggan e-newsletter.