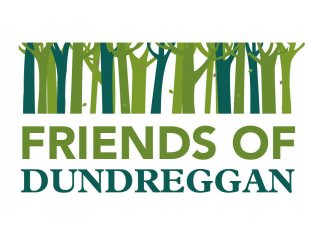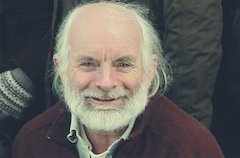 Thanks to the tremendous response we received from our supporters and partner organisations who voted online for us in the recent European Outdoor Conservation Association (EOCA) scheme, we were absolutely delighted to win the 'Alpine' category in this funding competition. As a result, we will receive €29,211 (about £23,000) for our work at Dundreggan, which will help us to plant 50,000 trees in the new Allt Ruadh exclosure, as well as growing 10,000 rare montane trees from a range of species annually and it will also enable us to support a local community-based initiative to re-wild a former commercial plantation of non-native trees at Invergarry. This funding will make a significant contribution to our work at Dundreggan over the next two years, and we're very grateful to everyone who voted for us. Thank you - we wouldn't have won without your support!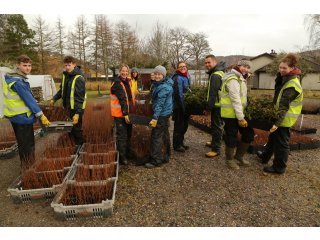 Quieter times
Although the winter months are generally a quieter time, with no volunteers based on the estate, during the last couple of months, Dundreggan has been busy with visits by a number of different groups. These have included the Annual Conference, or Gathering, for the Focalisers of our Conservation Weeks. These are the people we've trained to lead our week-long volunteer programmes, and this year 19 of them took part in it, and were joined by several staff over the week-end. This was followed a few weeks later by our annual Training Programme for Conservation Week focalisers, and 10 people participated in that this year, boosting the number of leaders we have available for the Weeks. We've also hosted visits by a group of 20 people on the Applied Ecovillage Living course run by the Findhorn Foundation each year, and two days of training in techniques of monitoring the impact of grazing in woodlands - various Trees for Life staff and colleagues form partner organisation such as Forestry Commission Scotland took part in the latter. In March a Trees for Life staff conference also took place over 3 days at Dundreggan.
In January, Dundreggan was one of the sites featured in the popular BBC2 television series, Winterwatch, and Doug Gilbert, our Operations Manager, was interviewed for that about the benefits that rewilding will bring in terms of alleviating the impact of flooding, which has been a very topical issue in the UK over the winter.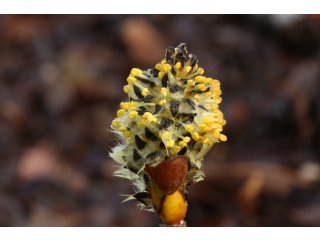 The bees are buzzing
As we write this, the first bumblebees are on the wing, mostly searching for willow flowers to find a source of nectar, with very few other flowers around so early in the year. This is a reminder of the crucial role played by trees in helping the conservation status of bees as well as other insects. With more trees, especially willows, in the countryside, the survival of queen bumblebees would be improved leading to a healthier population later in the year.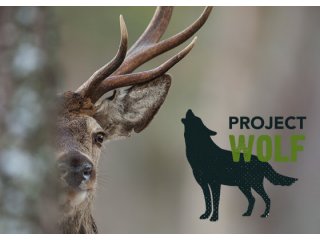 Project Wolf - a natural approach to deer management
Project Wolf - Part of our reforestation strategy at Dundreggan Conservation Estate is about reducing browsing pressure from deer in and around our semi-natural ancient woodland fragments in order to encourage young seedlings to flourish and create the next generation of forest giants. We are continuing to cull red and sika deer to agreed levels but we want to give young seedlings a better chance of survival in the crucial time in spring and early summer. Without hunting activity and without big predators, there is nothing to stop deer making a feast of newly emerging seedlings at this time. Project Wolf aims to create a landscape of disturbance within and around the woodland area at Dundreggan, keeping any deer here on their toes and less likely to spend time munching seedlings. Three volunteers (Matt, Dora and James) are being asked to go for regular walks through the woodland and out along the fringe of the existing woodland, perhaps making some noise and creating disturbance. The key thing is that this needs to be done during evening, night and early morning, so the "wolves" will be walking amongst woodland in the dark and at last and first light along marked trails. We hope this will have the desired impact on browsing levels and will be monitoring what happens as the spring progresses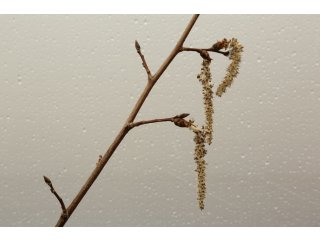 Aspens flowering for the first time
Talking of the importance of flowers, we have had an exciting development on the nursery this spring with our first aspen tree flowers appearing on (we think) a male tree in our indoor seed stand. Aspen is a really important tree in the Caledonian Forest and should be abundant in places. However, because it is so tasty, deer and other herbivores have reduced its wild population dramatically and we are now left with very few. We would love to be able to plant lots of aspen out in our project area but the problem is that aspen seed is very hard to come by. By encouraging aspen to flower inside our nursery polytunnels, we are hoping to begin producing larger quantities of aspen for planting out, so this male flower is a good start...we just need to coax a nearby female to do the same! Another new development in our nursery work has been the first propagation of guelder rose, one of the scarce shrub species in the Caledonian Forest. We have only a single guilder rose bush that we know of on Dundreggan, but we've now got some tiny seedlings that have just germinated in one of our polytunnels. Our staff and some of the visiting groups have also been very busy packing thousands of trees, making them ready for transporting to their plantings sites.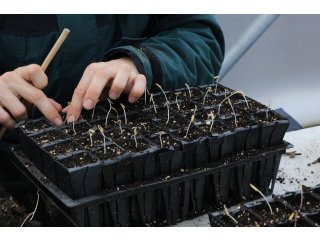 Springing into life
The spring season has truly arrived as we welcomed our first Long-Term Volunteers of the year. Alison, Will, Eva, Stuart and Rowan have all settled into life in the cottage with Tony Henry, our Volunteer Supervisor. They will be joining in the day-to-day work of the Estate, helping in the nursery at its busiest time and carrying out a variety of other management and monitoring tasks. Conservation Weeks began in earnest on the 19th March.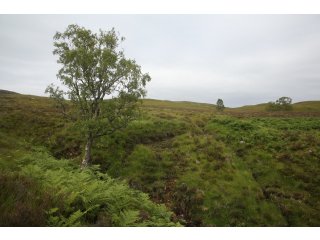 Scottish Rural Development Fund helps woodland creation
As a charity, TfL needs to maximise its income from schemes like the Scottish Rural Development Fund or SRDP. We are currently planning three woodland creation areas at Dundreggan: one at high elevation around Beinn Bhan in the north-west of the estate will be a montane scrub area dominated by unusual willow trees adapted to the high life; one is a larger 170ha enclosure which will enable a major extension of woodland in the heart of Dundreggan and help create a stepping stone between existing planted and natural woodland; and finally a small area beside the River Moriston. SRDP will support the capital work involved in these schemes – fencing and initial ground preparation and planting costs - which is a great help. We will plan to do this work over the next 4 years, giving us loads of opportunities to engage with volunteers in restoring woodland to Dundreggan!
Managing deer for a healthy habitat
Over the winter we have continued to carry out our deer management programme and to date we have shot a total of 20 red deer stags, 86 red deer hinds (inc calves) and 9 sika deer. This was an increase on previous years, which triggered some impassioned discussions at the local Deer Management Group that Trees for Life is part of. However, we remain firm in our view that a reduction in deer numbers (both red and sika) is an essential part of our restoration plans. Not only are we improving habitat for a wide range of other species, but we are creating better quality habitat for the deer themselves by taking this route. Our vision is for a landscape supporting a healthy population of deer as well as a vibrant and expanding forest, and in many places, including Dundreggan, the current population of red deer in Scotland is the biggest barrier to this (though sheep and other deer species play a role in places too). We will continue to make the argument for lower deer numbers across a wide area of highland Scotland, using our experience at Dundreggan to inform the debate.
Thank you again for your commitment to Trees for Life, and to Dundreggan. Your support is very valued and we hope that this update gives you an insight into what your donations are achieving.
Articles written by Alan Watson Featherstone, Founder and Visionary of Trees for Life,
and Doug Gilbert, Operations Manager at Dundreggan.