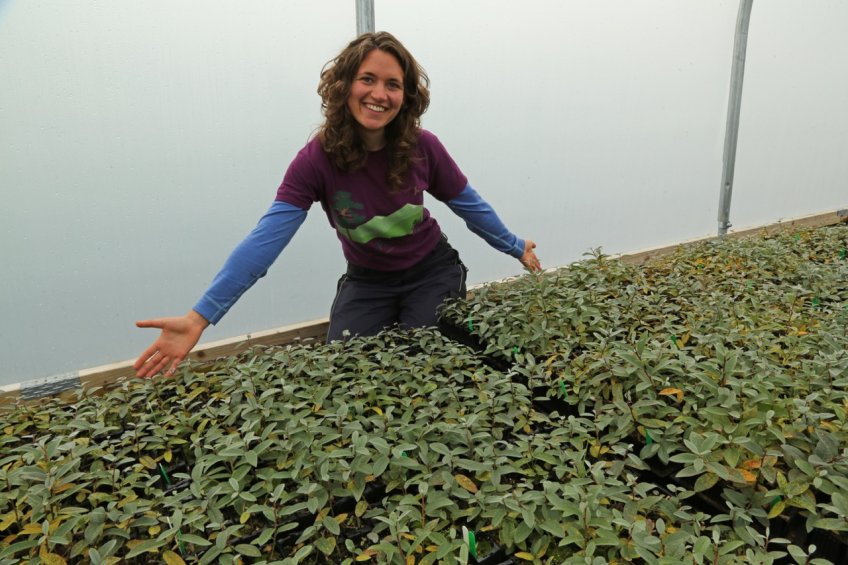 Our Nursery Assistant, Emma Beckinsale, with some of the 8,000 downy willow seedlings in our nursery. This is possibly comparable to the entire population
of this species left in the wild in Scotland.
Summer is the time when Dundreggan hosts researchers and students, and as part of our ongoing research links with Edinburgh Napier University, Jason Napier and one of his students are continuing the monitoring work on the impact of the captive wild boar on the estate. This project has been running for several years now, and under Jason's supervision, the students have been looking at the effects the boar are having on forest floor flowering plants, invertebrates and small mammals such as mice and voles. Shelley Rhodes, an MSc student at Leeds University, has also been visiting Dundreggan as part of her research project on the native pinewoods and island biogeography. She's looking at a number of surviving pinewood remnants to see if there is a correlation between their size and the number of species of plants and birds they contain.

Meanwhile, this year's programme of biodiversity surveys is now underway, with the groups being covered this year including beetles (to add to the previous survey we had done for them in 2007-08) and Laboulbeniales – a group of fungi that grow exclusively on insects, including beetles. Our ongoing spider survey recently resulted in the discovery on the estate of two scarce species (Macrargus carpenteri & Hilaira pervicax) for which there are few records in the north of Scotland. Along with the moth found by Richard Davidson, these are important additions to the list of species recorded at Dundreggan, and add to its reputation as a 'lost world' for its rich biodiversity.

Dundreggan continues to host regular visits from journalists, researchers and supporters, and the past couple of months have been no exception. In May the editors of the magazine 'Another Escape' visited the estate to interview and photograph volunteers and our work for a major article that will feature in their July edition. Also that month, Innes Mitchell, a man from Texas who was hiking the Scottish National Trail to Cape Wrath to raise funds for us, stopped by at Dundreggan and gave us a cheque for £2,000, as a result of his efforts – well done indeed Innes! Later in the month, Argyll Walking Holidays, one of our corporate supporters, brought a group of their clients to the estate and made another donation as well.
Scottish School of Forestry
The nursery staff hosted a couple of days volunteering from the Scottish School of Forestry (SSF) in April. Students on a three year course at University of the Highlands and Islands (UHI) had a taste of working in our tree nursery, pricking out seedlings, mixing compost to the exacting requirements of Jill and the team, lining out young trees in the bare-root beds and various other tasks. Hopefully, the association will continue as we build links with SSF, with the possibility of students spending more time at Dundreggan as part of (or on top of) their regular studies at UHI in Inverness.
New Moth for East Inverness-shire
Richard Davidson, a volunteer on a Conservation Week at the beginning of June, is a keen entomologist and he spent a few extra days looking for moths and other insects after his Conservation Week. Visiting habitats around Allt Ruadh, Richard caught a tiny moth flying above the vegetation. This turned out to be a new moth for the East Inverness-shire vice-county (the largest VC in the UK!), a beautiful longhorn moth called Adela croesella, with iridescent gold, purple and yellow colouration. Longhorn moths tend to be active during the day and often gather in swarms around flowering bushes and trees in sunshine. Eggs are laid on flowers on which the young larvae feed. They often spin themselves a small portable, violin-shaped cocoon in which they drop to the ground and continue feeding. The longhorn name comes from the extremely long antennae – sometimes three or four times the length of the moth.
Final Wolf pack leaves Dundreggan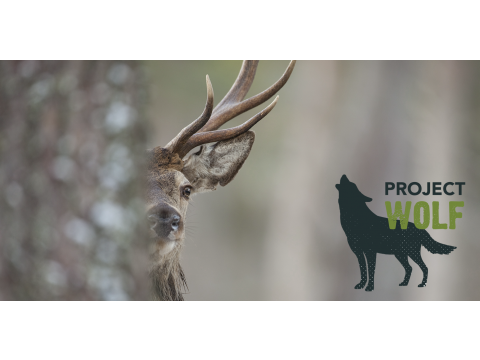 Project Wolf came to an end in early June, with Aaron, Claire and Lorna the final 'pack' of volunteer 'wolves'. Early monitoring results show that the volunteers are disturbing deer and that the vegetation is beginning to respond. We are beginning to see plants like honeysuckle, buckler ferns and even aspen suckers remaining intact over the spring. Our hope is that by maintaining the local red deer population at lower levels, and reducing the impact of non-native sika deer, we will see year on year improvements. The project has attracted interest from other woodland managers and researchers across Scotland. Our intention is to continue the project (subject to funding) for the next two springs at least. We are also interested in providing a more permanent shelter for the wolves (as well as other volunteers and visitors) somewhere deep in the wood (a wolf den!) and also drawing attention to placenames associated with wolves in the surrounding landscape – Creag a'Mhadaidh (pronounced "Craig a-vaddie")and Choire a'Mhadaidh ("Corrie a-vaddie") immediately opposite Dundreggan in Glenmoriston both refer to wolf. Trees for Life staff and some of the volunteer wolves made an appearance on BBC Scotland's Landward television programme, as well as Radio Scotland's Out of Doors programme, and the project also gained coverage in the print media, including the Scotsman and Press & Journal newspapers, - all-in-all a howling success!
"I don't think you ever stop being a wolf when out on the job. There is always an underlying awareness that you are there for a purpose, even though you do stop to rest. Your mind is still alert" – Lorna, volunteer wolf.
Getting it right for salmon too!
Chris Conroy, Chief Executive of the Ness District Salmon Fisheries Trust, visited Dundreggan in May to meet with some of the staff and see some of the work we are doing. The River Moriston is of European importance for its populations of Atlantic salmon and freshwater pearl mussel. Chris was keen to underline the Trust's interest in seeing catchment management that improves water quality and helps create good conditions for salmon. We visited Allt Fearna, where Trees for Life have planted 150ha of native woodland and he was very complimentary about our planting work. The wider benefits of native woodlands in the upper catchments of rivers is something that TfL is pushing whenever we can, so it was refreshing to listen to someone who really understood the importance of trees to nutrient cycling and to downstream ecosystem resilience.
Friends of Dundreggan Event 28 August 2016
You should have had your official invitation to the Friends of Dundreggan which takes place this year on the 28th August. We have a day of activities planned so that you can get hands-on with the work of Trees for Life as well as find out all about the amazing work that your donations have enabled over the last 8 years. Hope you can make it. Please let mandeigh@treesforlife.org.uk know if you are planning to attend and also any special dietary requirements you might have.
Content by Doug Gilbert and Alan Watson Featherstone