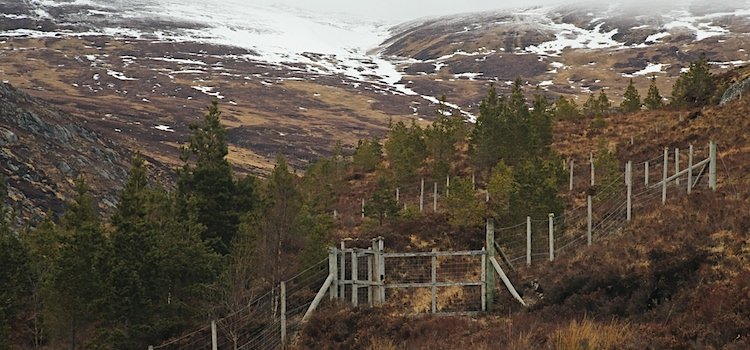 Meallan is a 55 hectare deer-fenced exclosure that we funded in 1991. A combination of natural regeneration and Scots pines planted by volunteers has resulted in a healthy young native woodland that is helping to restore the Caledonian Forest to some of its former range in the glen.
Site location
Meallan lies astride one of the main access tracks for hillwalkers in Glen Affric, so it is one of our more visible and visited project sites. It encompasses both sides of a section of the Abhainn Gleann nam Fiadh, one the glen's larger watercourses, which flows down from Carn Eige, the highest peak in Scotland north of the Great Glen, and discharges into Loch Beinn a'Mheadhoin.
The exclosure is our second project in partnership with Forestry Commission Scotland (FCS) in Glen Affric and was planned to complement our first joint project – the 50 hectare natural regeneration area at Coille Ruigh na Cuileige. That lies on the eastern side of the hill, Beinn a' Mheadhoin, with Meallan on the western side. Combined with the third fenced exclosure that we funded, at Glac Daraich on the south slope, the intention was to create three new areas of native woodland surrounding the hill, so that they could form the seed sources, or nuclei, for future forest expansion by natural regeneration. Whereas Coile Ruigh was fenced purely for natural regeneration, Meallan was protected for a combination of natural regeneration and new planting.
What work has been done?
At the time the fence was put up, in 1991, the only trees in the area were a straggle of old Scots pines along some parts of the burn, plus a few birches and rowans and a large old alder. We began tree planting on our volunteer Conservation Weeks in the spring of 1992 and continued in the following two years, to plant a total of 28,100 Scots pines. These were fertilised with rock phosphate to increase their chances of survival and to boost their growth rate. In 1994 we planted 56 aspens and added a few other broadleaved trees later on.
How are the trees faring?
In some areas, especially near the walking track that passes through the exclosure, there has been prolific and very successful natural regeneration of birches and rowans. However, some of the exclosure, especially west of the burn, consists of wet and peaty ground. We planted fewer trees in these areas, and in general they are not growing as well as those on the eastern side, or on the slopes of the burn, where the soil conditions are more favourable. There has therefore been a variable growth rate of the new trees, which is actually a good result, as that is how it would be if the area had been left solely for natural regeneration – a uniform and equal growth of the trees everywhere would have meant it looked more like a tree plantation, rather than the varied young native woodland that it is today.
In October 2012, Ed Wilson, an MSc graduate from Imperial College, London, carried out some survey work for us on the establishment of trees at Meallan. He surveyed 42 plots and recorded tree species and height, whether there was any browsing damage, and the estimated age of the young Scots pines. Of the surveyed trees, 26% were taller than 1.5 metres, and can therefore be officially classified as 'established'. Another 43% were between 0.6 metres and 1.5 metres in height, which shows how comparatively slow their growth has been, given that they were mainly planted nearly two decades ago. This is a reflection of the relatively harsh conditions of the site, and indicates that it will have to remain fenced for several more years, until the trees are tall enough to be safe from browsing by deer.
Walking around in Meallan now, it is tremendously satisfying to see the young forest that is growing there, especially given the hard work of planting those trees 20 years ago – some of them were planted in horizontal, driving snow! The largest of the new pines are already producing cones, and the seeds they contain will help to spread the forest further. Insects are thriving on both the young trees and other vegetation such as bog myrtle and heather. They in turn are attracting insectivorous birds, so the forest ecosystem is becoming re-established, and Meallan is on its way to being an important part of the renewed Caledonian Forest in Glen Affric. The area is also shown on the latest Ordnance Survey maps as 'woodland' - real proof of the success of this project.
Click on an image below to view the gallery.