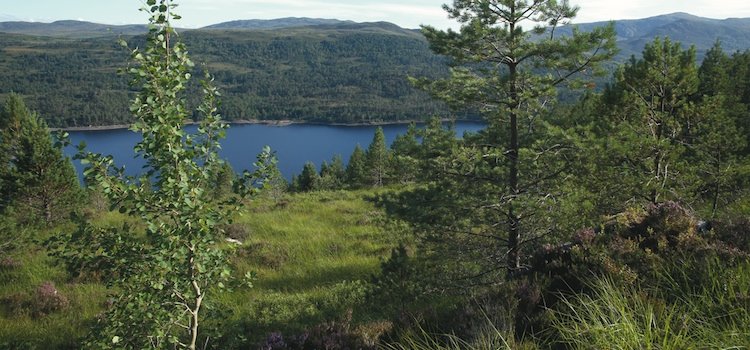 Glac Daraich is a 35 hectare fenced exclosure that we funded in Glen Affric in 1992. The Scots pines that we planted there are flourishing, and natural regeneration of holly, birch, rowan and juniper is creating a diverse and healthy native young woodland.
Site location
Glac Daraich is situated on the north side of Loch Beinn a'Mheadhoin, above a plantation of Scots pines on the slopes of the hill Beinn a'Mheadhoin. It was our third joint project in partnership with Forestry Commission Scotland there, and was designed to create an area of native woodland in between the first two exclosures we had funded – Coille Ruigh na Cuileige in 1990 and Meallan in 1991.
The intention with this network of three sites was to create the nuclei from which further forest expansion could take place in the future through natural regeneration, once the trees in the exclosures reach seed-bearing age, and assuming that the grazing pressure of deer outside the fences was reduced.
While there were a few native trees within the area enclosed by the fence (and, remarkably, one old Scots pine above the fence line at about 500 metres in elevation), the site was intended primarily for planting, and volunteers put in 24,000 Scots pine seedlings there on Conservation Weeks in the springs of 1993 and 1994. A number of aspen trees were also planted, with some of those in 1993 being the first aspens we planted anywhere, grown in our initial experimental work in propagating the species from root cuttings.
Glac Daraich today, and in the future
The pines that we planted have generally grown very well, and there has also been natural regeneration of birch, rowan, juniper and holly. However, the site would probably benefit from having some more broadleaved trees in it, to give a more natural balance of tree species. One of the first aspens we planted there in 1993 grew very quickly, and reached a height of five metres in just six years, but, for reasons unknown, has subsequently hardly grown any more at all. Other aspens we planted have grown more slowly but steadily, however. With protection from overgrazing, bog myrtle and heather have flourished inside the fence, and a healthy young Caledonian Forest ecosystem is starting to take shape.
Glac Daraich means 'hollow of the oak' in Gaelic, indicating that oak trees must have formerly grown somewhere on the hillside. There are no oak trees to be found anywhere there today, but the south-facing aspect, well-drained ground and relatively fertile soils (indicated by abundant bracken growing at lower elevations) all indicate that the site would be suitable for native hardwood trees such as oak and hazel. It is likely that oak was more abundant in such sites in Glen Affric in the past, but was probably preferentially removed for its timber and then was unable to regenerate because of grazing pressure. While the site of the exclosure we funded may be too high to seriously consider planting oak in, we hope that some oaks may be planted lower down, in the commercial plantation, as it is naturalised back to native woodland in the years ahead, thereby restoring the area both to greater ecological diversity and also to reflect the Gaelic origins of its name.
Click on an image below to view the gallery.