The red squirrel is one of our most characteristic native animals, an iconic inhabitant of the woodlands.
Red squirrels help to expand their habitat through burying nuts and seeds. Sadly, despite once being present across most of Great Britain, its numbers have been devastated by habitat loss and the introduction of the non-native grey squirrel. Reds have been lost from most of England and Wales, leaving Scotland as the last remaining stronghold. It holds about 121,000 individuals, ¾ of the UK population; however, this is only a fraction of previous numbers and, sadly, the species is still missing from much of its former range.
Since 2016 Trees for Life has been creating new populations of red squirrels throughout the northwest Highlands – carefully capturing reds from areas where there are healthy numbers and moving them to forests in the northwest that are free from the threat of greys and a devastating disease that they carry, Squirrel pox.
So far, we have created nine new populations which are flourishing and expanding throughout the available habitat, and we are planning another four translocations. By increasing both the numbers and range of the red squirrel, the project is making a huge contribution to the conservation of this threatened species.
Our next release site has been confirmed – Red squirrels are coming to Golspie!
Click here to find out more.
View more
The project has been highly successful so far. Some of the results include:
The creation of nine new populations of red squirrels that are free from the threat of greys.
The creation of a number of 'satellite populations' from squirrels colonising new forests up to 16 km away from the original release sites
Successful breeding with frequent sightings of young squirrels
Very positive engagement with local communities
Additionally, we intend to:
Survey the Scottish Highlands to produce an up to date map of existing red squirrel distribution
Survey the Scottish Highlands to determine if there are any further remaining possible sites for translocation
Work with local communities and visitors to engage them in the project through guided walks, red squirrel monitoring days and a curriculum-focussed red squirrel programme for schoolchildren.
We have now completed translocations at nine sites, shown below.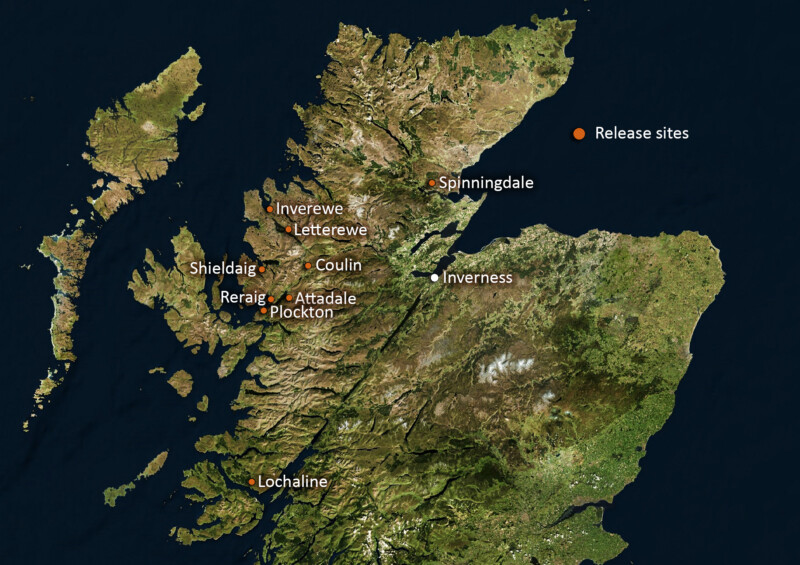 Phase 2 of the project is focussing further to the north and in Morvern.
Becky Priestley is our Red Squirrel Project Manager. She carries out habitat assessments, liaises with landowners and oversees the trapping, release and monitoring of the red squirrels.
Kat Murphy is our Community Engagement Officer and works closely with communities in the areas where we release the red squirrels. She leads guided walks and runs an education programme with local schools.
The project works in partnership with numerous private landowners as well as Forestry and Land Scotland, Woodland Trust Scotland and National Trust Scotland.
We are very grateful for grant funding from the following trusts as well as generous donations from many of our individual supporters.
European Outdoor Conservation Association, People's Trust for Endangered Species, Nineveh Trust, Michael Marks, Susan H Guy, Cross Trust, Mitchell Trust, Inchcape Foundation, D'Oyley Carte, Naturesave, John S Cohen, Red Squirrel Brands, D S Smith, Clark Bradbury, Sir James Miller Edinburgh Trust, Speygrian Educational Trust.