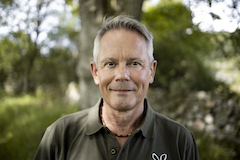 Steve Micklewright
Chief Executive Officer
Steve is responsible for leading and managing Trees for Life so it continues to be one of the most innovative and dynamic organisations involved in forest restoration and rewilding.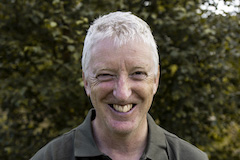 Doug Gilbert
Dundreggan Operations Manager
Doug oversees the management of Dundreggan. Planning new planting areas, implementing the Estate's Deer and Forest Management Plans, liaising with visiting experts and contractors and welcoming volunteers to Dundreggan Lodge are all part of his job.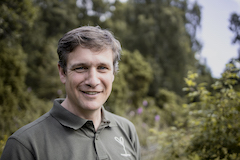 Alan McDonnell
Conservation Manager
Alan is responsible for delivering our programme of major projects. These include all aspects of habitat and species recovery, plus other environmental initiatives, from concept to scoping, feasibility, delivery and review.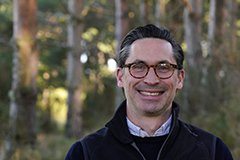 Colin Mackenzie-Blackman
Head of Fundraising & Engagement
Colin is responsible for our communications and fundraising activity, working to ensure that individuals, communities and organisations are inspired to help rewild the Scottish Highlands.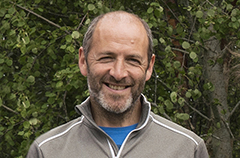 Paul Greaves
Skills for Rewilding Training Programme Manager
Paul is responsible for the management of the National Lottery Heritage Funded Skills for Rewilding project, ensuring trainees have the chance to learn new skills in horticulture, forestry, community engagement and deer and estate management.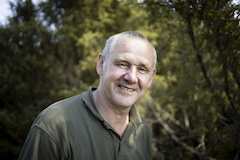 Allan Common
Dundreggan Deer Manager
Allan is responsible for managing the deer at Dundreggan. He also helps with conservation projects, construction and maintenance of buildings and equipment.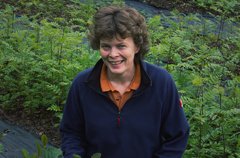 Jill Hodge 
Dundreggan Nursery Manager
Jill manages the tree nursery and helps organise tree planting and other volunteer tasks at Dundreggan. She also welcomes visitors who come to plant trees and hear about the work of Trees for Life.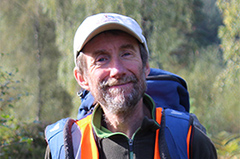 Mick Drury 
Field Projects Coordinator
Mick organises practical tree planting and other work on the ground, monitors its success and coordinates some volunteer field work.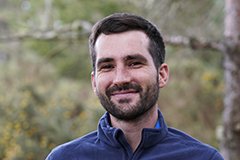 Tomas Loyante Barea
Head of Finance and Systems
Tomas is responsible for the financial management of Trees for Life, ensuring best practice is achieved and the charity is fully accountable for its financial decisions.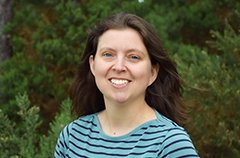 Fiona Holmes
Caledonian Pinewood Recovery Project Manager
Fiona manages the Caledonian Pinewood Recovery project. She especially focuses on building relationships with landowners to help increase the ecological management of pinewoods in private ownership.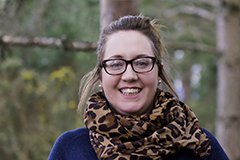 Laura Miller
People and Resources Manager
Laura is often the first point of contact for supporters, volunteers and members of the public. She oversees the general running of the office, including HR and Health & Safety, processes merchandise orders, grove and tree dedications.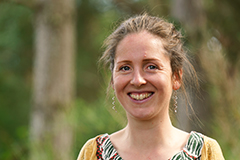 Becky Priestley 
Red Squirrel Project Manager
Becky runs our Red Squirrel Reintroduction Project. She carries out habitat assessments, liaises with land owners and, most importantly, sources, catches and moves red squirrels to establish new populations.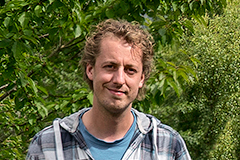 Chris Aldridge
Individual Giving and Marketing Manager
Chris manages, plans and delivers all aspects of Trees for Life's communications and marketing, especially focusing on social media and co-ordinating online and print communications and editing web content.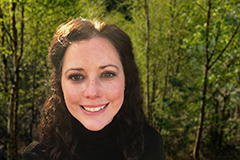 Catherine Faulkner 
Partnerships Manager – Corporates
Catherine works with businesses that are passionate about supporting rewilding in the Scottish Highlands. Her role includes creating partnerships with companies that want to give back to nature and engage their staff with our key activities.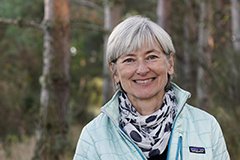 Sarah Kent
Partnerships Manager – Trusts and Foundations
Sarah is responsible for securing funding from charitable trusts and foundations. Her role includes providing feedback to funders about how their donations are helping to rewild the Scottish Highlands.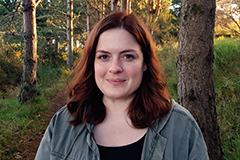 Laurelin Cummins-Fraser
Project Development Manager – Dundreggan Rewilding Centre
Laurelin oversees the development phase of the Dundreggan Rewilding Centre, to be opened in 2022.  She is responsible for securing funding for the project, developing visitor experience strategy, and works with contractors to achieve architectural design and planning permission within timescale and budget.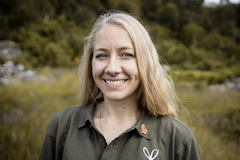 Kat Murphy
Community Engagement Officer
Kat inspires and involves people who live close to our projects with our work. She delivers educational activities for schoolchildren and organises projects and events so people discover the wild forest and its wildlife.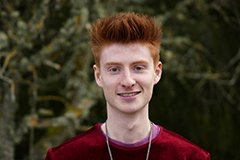 James Rainey
Caledonian Pinewood Recovery Project Officer
James is working on the Caledonian Pinewood Recovery project. He undertakes assessments of the ecological health and the resilience to future threats of the remaining pinewood remnants. These assessments are used to help landowners decide how they could improve their Pinewoods.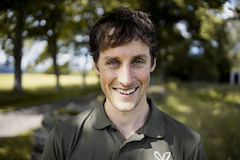 Tom Gilpin 
Conservation Week Coordinator
Tom is responsible for running our volunteer Conservation Week programme. He manages the Conservation Week Guides and ensure the vehicles, accommodation and food is organised for the weeks. He plans the work to be done too.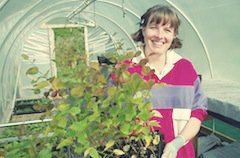 Abbey Goff 
Dundreggan Nursery Supervisor
Abbey oversees the day-to-day work at the tree nursery. She leads on all aspects of propagation, from sowing seeds through to planting out young trees in beds, and also works with Tree Nursery Week volunteers.
Emma Beckinsale 
Seasonal Nursery Assistant
Emma assists in the running of the tree nursery at Dundreggan. She helps with all aspects of nursery work including aspen propagation, seed sowing, and planting out young trees, working with the many volunteers that come on our Tree Nursery Weeks.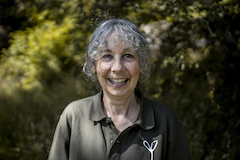 Janet Barcis
Accounts Administrator
Janet takes care of all our day-to-day monetary transactions. She also organises our insurance requirements.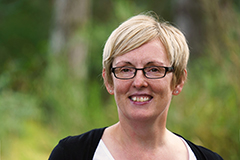 Carol MacDonald
Supporter Coordinator
Carol is the first voice many people hear when they call Trees for Life. She takes calls and greets visitors, while also processing orders, corresponding with donors and maintaining our database.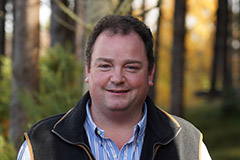 Nigel Fraser
Chair
Nigel is a Partner in the firm of Rural Property Consultants, Strutt & Parker. A Chartered Surveyor, Nigel is a land agent who manages a number of estates across the Highlands and has particular expertise in renewable energy. Nigel also manages a tourism and property business with his family in Strathglass.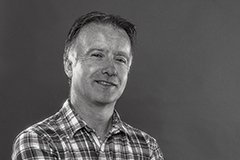 Peter Cairns
Peter Cairns is a nature photographer, filmmaker and writer with over 20 years of professional experience. Co-founder of conservation media projects such as Tooth & Claw, Wild Wonders of Europe and 2020VISION, Peter is now Director of SCOTLAND: The Big Picture, a social enterprise dedicated to communicating the potential of a wilder Scotland. Peter is a Senior Fellow of the International League of Conservation Photographers.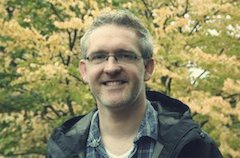 David Hetherington
David has been an Ecology Advisor for the Cairngorms National Park Authority since 2005. He completed a PhD from Aberdeen University on "The feasibility of reintroducing the Eurasian lynx to Scotland" and was Project Manager of the Cairngorms Wildcat Project for three years.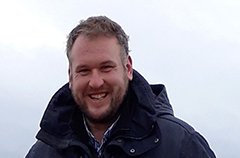 Matthieu Hommel
A member of the Institute of Chartered Foresters, Matt currently operates as a specialist Forestry Consultant and Fabricator based near Elgin. Matt is a professional forester and has previously held roles with Smiths-Gore, UPM-Tilhill and spent the last 12 years as Managing Director of Christie-Elite Nurseries one of the UK's best known growers of forest trees.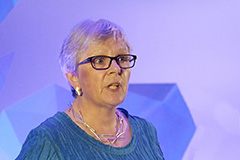 Jane Cumming
Jane moved to the Highlands as Head of Corporate Relations at the North of Scotland Water Authority. She subsequently built and grew her Beauly based PR company into one of the largest independent PR firms in Scotland. She sold her business in 2015 but continues to work part-time as well as helping establish a family run tourism business. She's a Fellow and Chartered Practitioner of the Chartered Institute of Public Relations and a Fellow of the SCDI (Scottish Council for Development and Industry).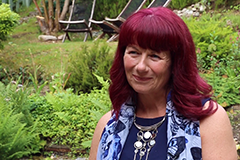 Jane Gill
Jane is an experienced Board Advisor, Non-Executive, Chair and Pension Trustee. She has worked within multi-national blue-chip and privately owned companies as well as in Charity, Arts and Education.  Jane has expertise in managing large scale Digital, Finance, Engineering and Regulatory projects and as a chartered accountant, has held senior roles in Finance and in Project Management.   Jane is passionate about Scotland and the outdoors enjoying hillwalking, mountaineering, cycling, skiing and being on the water.