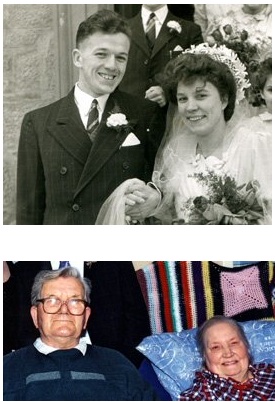 Mum and Dad, we have set up this Diamond Wedding Anniversary Grove to celebrate the wonderful achievement of 60 happy years together and to thank you for all the love and happiness you have shared with us over those years.
The trees planted in your grove in the Caledonian Forest will grow over the coming years to be as strong as the love you have shared during the last years and in the years to come.
Healthwise it has not been possible for you to venture out lately and appreciate the natural beauty of our native land. We hope that the little part of Scotland that has been created in your name can go some way to make up for what you have missed and be a place for future generations of the family to visit and remember all our happy memories.
All our love
Grace and Margaret and families
Read more
---
Donations
Remembering all of our happy days together.
12/01/2017
Many congratulations and lots of love for your 60 happy years together. Grace, Ken and Family xxxxxTwo more trees to represent the newest members of the family. May these trees grow strong and healthy as the young ones growHappy Mother's Day from all the family. Love Margaret and RobinHappy Easter from us all.Margaret, Robin, Stephen, David, Nicci, Hayden and Isabel Happy Mother's day Mum. Lots of love from Grace, Catriona, Andrew and Karen Love to you both at Easter. The Morris gang.xxxxx Happy Birthday mum with love from Margaret Robin and family Lots of love on your birthday Mum from Grace and Ken. Xx
Donated by
Mrs G.F. Morris, Margaret Smithett, Margaret Robin and family, Grace and Ken