Brian Bain's memorial grove
4th Sept 1959 - 17th Sept 2007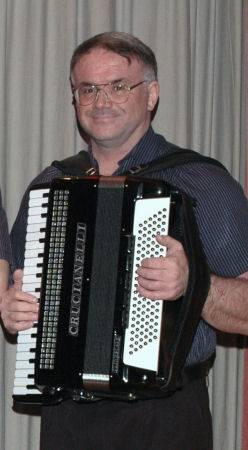 We are planting these trees in loving memory of Brian, a wonderful son, brother, nephew, cousin, uncle, husband and Dad. He loved his family, playing his accordion, taking photos, being a driving instructor and food, especially anything with chocolate! Everyone who knew him thought he was a great guy and he had a wonderful sense of humour which his son Stephen seems to have inherited. He played in a band (The Bain Brothers) with his brother Roy for more than 30 years and gave lots of pleasure to so many people whilst getting great enjoyment himself from watching those people get up and dance to his music. He was a great Dad who loved spending time with his sons, Stephen and Matthew, doing such things as going for night walks, play fighting and reading bedtime stories. He was also a very loving husband who showed he cared in so many different ways. We all miss him but are so glad that he was a part of our lives for the time that he was and that while he was with us he made our lives much better.
Do you make them laugh in Heaven
Do you make them laugh in Heaven,
does your smile bring them good cheer?
Do you make the sun shine brighter,
like you did when you were here?
The very mention of your name,
the memories of your smile,
The little things you said and did,
are with us all the while.
You meant so very much to us,
there's nothing left to say,
Except that without you here
there is no perfect day.
For no-one knows the heartache,
that lies behind our smiles,
no-one knows how many times
I have broken down & cried.
I want to tell you something
so there wont be any doubt,
you're so wonderful to think of,
but so hard to be without...
We hold you close within our hearts,
and there you shall remain.
To walk with us throughout our lives,
until we meet again. xXxXxXxXx