Emily Stevens and Rob Watts wedding/partnership grove
15th July 2006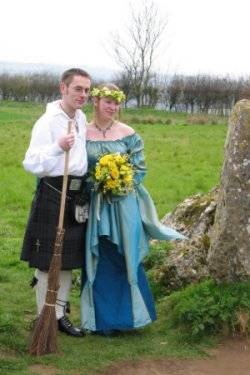 "As weddings are preparation for growth together, we would like to concrete the metaphor and ask you to donate trees to Trees for Life. The restoration of the Caledonian Forest is a subject close to both of our hearts. Weddings, by their very nature use up so much carbon, that this may well go some way to restoring the balance.
We both hope to work on some of these projects with a Work Week, and it would be nice to know that our wedding had provided the chance to increase the number of trees that could be planted. If anyone wants to come on a Work Week with us, let us know and we'll try to find a project that suits us all!
Apart from that, thank you for coming to view this page. We hope you enjoy our day as much as we will enjoy having you all there, whether in body or in spirit. The photo opposite is us at our Hand-fasting ceremony in April which was the first part of our wedding ceremonies."
May the road rise up to meet you, and the wind be always at your back.
Emily and Rob