A Grove of trees in the Scottish Highlands
18th Birthday

Michael Taylor Stoakes


28th May 2010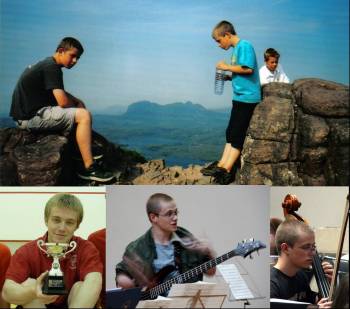 We wanted to mark Michael's birthday in a special way
and it seems ideal to plant trees in the Highlands
- he liked trees and he loved the Highlands.
We pass these woods on the way to Oldshoremore,
the place in the Highlands he loved the most.
The significance of Michael,
his life and his music will never fade,
he'll always be a part of us.
With all our love - Dad, Mum and Lyall xxx
Moment musical in Assynt
A mountain is a sort of music: theme
And counter theme displaced in air amongst
Their own variations.
Wagnerian Devil signed the Coigach score;
And God was Mozart when he wrote Cul Mor.
You climb a trio when you climb Cul Beag.
Stac Polly - there's a rondo in seven sharps,
Neat as a trivet.
And Quinag, rallentando in the haze,
Is one long tune extending phrase by phrase.
I listen with my eyes and see through that
Mellifluous din of shapes my masterpiece
Of masterpieces:
One sandstone chord that holds up time in space -
Sforzando Suilven reared on his ground bass.
Norman MacCaig.