Dundreggan Conservation Estate is a 10,000 acre expanse of wild land near Loch Ness. Formerly a traditional sporting estate, it was bought by Trees for Life in 2008 to expand the Caledonian Forest in the Scottish Highlands.
Our vision for Dundreggan
With your support, Dundreggan will be a very different place in 50 years time. Natural woodland, with open glades intermingled with denser areas, will stretch up from the banks of the River Moriston. This diverse forest of oak, pine, aspen, hazel, juniper and birch will grade into montane scrub that will cover much of the higher slopes. Wildlife flourishing in this abundant woodland habitat will include red squirrel, capercaillie, European beaver, wild boar, osprey, black grouse and wood ants. Twinflower, creeping ladies tresses and other rare woodland plants will thrive. The forests of Dundreggan will no longer be isolated, but part of a larger expanse of native woodland from Glen Affric Nature Reserve in the north to Glen Moriston, and the shores of Loch Ness in the south east.
But we can't do this alone. To deliver this extensive programme of restoration at Dundreggan we need to raise £100,000 each year.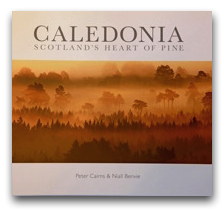 As a Friend of Dundreggan you will enjoy
A gift wallet containing ten fine art prints by Peter Cairns and a DVD featuring a slideshow of images to the Caledonia soundtrack sung by Ailsa Villegas, a high quality photographic print of Dundreggan, plus an introductory pack with more detailed information about the Estate.

Regular Friends email updates from our Executive Director.
An invitation to join an annual Friends' event at Dundreggan, where you can see how your support is enabling the forest to return, and meet Trees for Life staff and Board members.
Playing a vital role as a key supporter of one of the largest Caledonian Forest projects in the UK.