Skills for Rewilding
The Skills for Rewilding programme is an amazing opportunity for five people each year to spend 12 months, fully funded, learning  practical skills required to gain employment in the Scottish environmental sector. Training is provided by highly qualified mentors ensuring that the 12 month positions, along with the associated qualifications, give a real boost to trainees employability at the end of the programme.
Trainees choose to specialise in one of the following areas:
The qualifications linked to each traineeship do not require attendance at college, as trainees compile a portfolio of evidence gathered whilst carrying out on the job learning. They are accredited by the University of the Highlands and Islands or similar industry recognised organisations.
This project is made possible through funding provided by The National Lottery Heritage Fund "Skills for the Future" programme, which helps organisations deliver fully funded placements to meet skills shortages and diversify the workforce in the heritage sector. With these objectives in mind we encourage applications from anyone who is part of a community underrepresented in the environmental sector workforce, including young people, members of the BAME community and women who favour roles which have historically had a gender imbalance towards men. These groups have been identified as being poorly represented in the Scottish nature conservation workforce at the moment.
2021 – 22 is the final year of the Skills for Rewilding programme, and applications are now closed.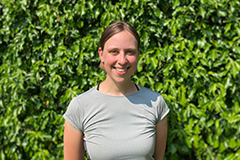 Heather – Tree Nursery Horticulture
I grew up in the Highlands and always enjoyed spending time in the woodlands that surround Inverness. Before starting this traineeship I worked in hospitality. I'm excited to switch to horticulture and learn from the passionate team at Trees for Life. Throughout the traineeship, I'll be studying towards a practical horticulture qualification.  This will help me develop a greater understanding of Scotland's native trees.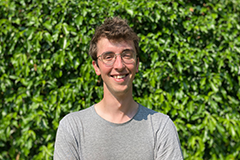 Daniel – Tree Nursery Horticulture
I'm conscious of the need for change in the way we interact with nature. With the aim of rewilding small areas, I've spent the last few years teaching myself how to grow trees from seed. Trees for Life is a great catalyst for change, and I can't wait to work with them. With this traineeship under my belt, I'll be able to carve out a distinct role in the rewilding of the future.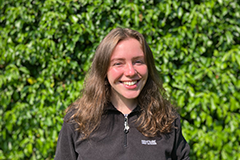 Alice – Digital Marketing
I've moved to Dundreggan from Glasgow, where I was studying sociology. I wrote my dissertation on the relationship between rewilding and people. I'm interested in understanding the importance of human connection to nature and its capacity to inspire pro-environmental behaviour. I hope the traineeship will help me to communicate the incredible work Trees for Life is doing and continue to engage people with rewilding. Over the year I will be working towards a Diploma in Digital Marketing at SCQF Level 6.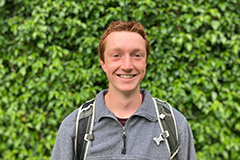 Angus – Deer Management and Estate Maintenance
I have always had an interest in nature and wanted to do my bit to help look after it. Skills for Rewilding seemed the perfect way to do that, and Trees for Life is a great organisation to get involved with. I'm interested in deer management as I see it as critical to Scotland's rewilding journey. Throughout the course of the year, I will learn all the skills I need to gain employment in this role.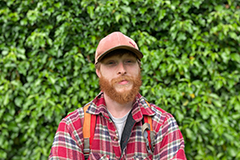 Grymmsy – Conservation and Landscape Planning
Raised in rural Scotland and surrounded by trees, plants and wildlife, I've always had a close connection with nature. I'm interested in how the natural world works in harmony with itself. Training with Trees for Life will give me the skills to restore the beautiful Caledonian pine forests to their former glory. It will also help me build a future career in conservation.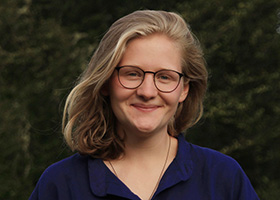 Catriona – Conservation and landscape planning trainee
I was brought up in the Highlands and have always had a keen interest in the natural world and the environment around me. I spent the last two years studying in Norway where they have no shortage of trees and I was inspired by the landscape and the many different ways in which they can use it. I am very excited about the possibility of learning about the landscape we have here in Scotland and how we can promote the regeneration of the forests and woodlands in a beneficial way to both landowners and the ecosystems that should be present here.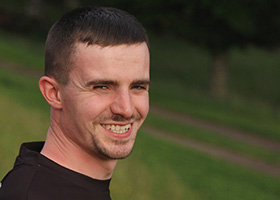 Graham – Community engagement trainee
Before joining the traineeship, I worked in retail and volunteered with a local charity. I recognised that although I enjoyed helping and engaging with people, I also wanted to work in an outdoor environment where I could develop my interest in nature and conservation. I am excited about the prospect of being involved with Trees for Life. I am looking forward to working with the local community and developing my skills and knowledge which will stand me in good stead for a future career.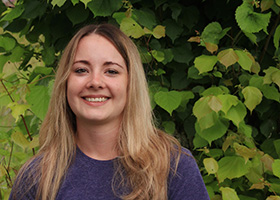 Heather – Deer and estate maintenance trainee
After having had various indoor jobs, I never really felt settled and I've always had a passion for the outdoors. This traineeship will help give me the foundations for what could be a fantastic future. During my time with Trees for Life I will be working towards my Level 1 Deer Stalking Certificate, a chainsaw qualification, completing outdoor first aid training and getting hands on experience with the deer stalker on the estate. Although it's only the beginning of the traineeship I'm looking forward to experiencing all that it has to offer.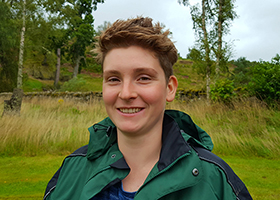 Louise – Tree nursery horticulture trainee
I wanted to work in conservation because the warming climate and degrading biosphere is the most pressing issue of our time. I also have always had a great interest in the Highlands and am excited at the opportunity to work with an organisation that is regenerating the forests and wildlife.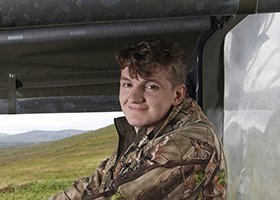 Callum – Deer and Estate Management trainee
I was working indoors as a painter and decorator and I felt like I wasn't in the right place and wanted to work outdoors. So far in the traineeship I have had the unique opportunity to work with the Trees for Life deer manager who has around 30 years of experience. A normal day for me would be working directly with the deer management team learning hands on skills in deer stalking and estate management. I am working towards the Deer Stalking Certificate 1 as well as completing a chainsaw qualification. These qualifications along with the practical skills I'm gaining will help me go forward and obtain a career in this sector.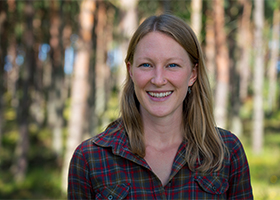 Georgie – Forestry and Land Management trainee
Prior to joining Trees for Life I was working in the commercial forestry sector, but felt I wanted more of an ecological focus in my work. The traineeship has provided me with the opportunity to develop my knowledge and understanding of native woodland restoration and management. I am helping to develop new planting schemes and manage woodlands in a way that prioritises ecosystem functions and delivers a wide range of benefits to both the environment and people. Working with Trees for Life has allowed me to make a significant change in my career direction and to gain incredibly valuable experience.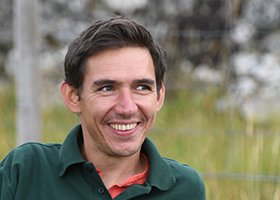 Nick – Tree Nursery and Horticulture trainee
Before moving to the highlands I was working in Devon and volunteering with a tree planting charity. I studied History and cultural studies at University and since graduating in 2008 I have done a variety of jobs. I developed an interest in horticulture and began volunteering and learning new skills. I found this work enjoyable and rewarding and I feel very lucky to be gaining professional training in a specialist tree nursery. The traineeship will provide me with skills and a diverse range of experiences that will be of benefit in future employment.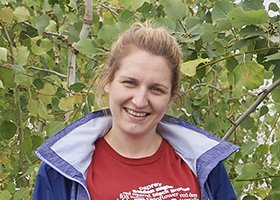 Rhona – Community Engagement trainee
After 8 years of working in the NHS, I decided that I would like to try a career change. I'd always been interested in conservation and environmental work, and felt that my experience of working with people and communities would transfer well to learning about community engagement with Trees for Life.
So far I've working on a variety of outdoor projects with adults and children. There have been opportunities to help with events and tours held on Dundreggan estate and at other local projects. It is an exciting time to be involved with Trees for Life, as they are expanding their community engagement outreach and connections with local people.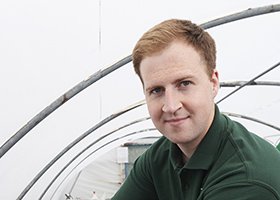 Tim – Tree Nursery and Horticulture trainee
Having previously studied and worked in Hospitality I decided that I'd prefer to spend more time outside than in. I have always had an interest in nature and the work that Trees for Life are doing to restore the Caledonian forest. Working in the tree nursery is a fantastic opportunity to develop skills that will allow me to progress a career in a similar role. I really enjoy my day to day work on the nursery and I am continuously learning how to grow the various trees species that make up the native forests of Scotland.
Questions and answers about Skills for Rewilding traineeships:
Please be aware that the trainee programme is continually evolving, so our delivery of the traineeships may change slightly. This is even more relevant with the uncertainty related to the pandemic. None-the-less we're confident that the information provided is an accurate reflection of the traineeship experience. Below you will find answers to some of the questions that you might have.
What's the aim of the traineeship?
To further trainees knowledge and skills, through practical experience, so that they can gain employment within the Scottish natural heritage sector and contribute towards the rewilding of the Highlands.
What is the format of the traineeship?
This is NOT a taught, academic, classroom-based traineeship. It is a work experience based 'learning by doing' traineeship, where participants will learn from Trees for Life staff through a wide variety of experiences associated with 'rewilding' Dundreggan and other project sites across the Highlands.
Depending on pandemic restrictions, trainees may also get the opportunity to go on short placements with other organisations (such as RSPB or community woodland associations) that are involved with woodland restoration and land management. These placements are intended to allow trainees to see how other organisations operate, the types of work going on across the sector, and to create links that might help them with their future careers.
Where is Dundreggan?
Dundreggan is seven miles west of Loch Ness, on the A887 which links Invermoriston and the Isle of Skye.
Be aware that Dundreggan is a remote location, with poor mobile phone and internet reception. The nearest local centres (i.e. providing shop, pub, activities etc.) are at least a ½ hours' drive away. Trainees find having access to their own vehicle helps to feel more connected to the outside world, as public transport is infrequent and expensive.
What would trainees be doing day to day on the traineeship?
The learning activities at Dundreggan are mostly active, outdoors and subject to seasonal variation. Trainees need to be prepared to get their hands dirty, work in all weathers, and deal with the midges!
Trainees might be…
Collecting tree seeds, processing them and then growing them on in the nursery
Getting involved in landscape assessments and the monitoring of plants and animals
Assisting the deer manager (i.e. stalking, shooting, carcass handling)
Working with volunteers to plant trees at 'rewilding' project sites
Working on digital marketing campaigns which promote rewilding
Out on short placements with other organisations in relevant sectors
Trainees get the opportunity to try a variety of these things, and others, but over the training year trainees will concentrate on one of the four specific skills areas available, either:
Tree nursery horticulture
Deer management and estate maintenance
Digital marketing
Conservation and landscape management
Is there a qualification for completing the traineeship?
Yes,
Tree Nursery and Horticulture trainees will work towards a Level 2 SVQ in Practical Horticulture supported by Moray College UHI..
The Deer Management and Estate Maintenance trainee will work towards a Deer Stalking Certificate + Chainsaw and All-Terrain Vehicle (Argo) certification.
The Digital Marketing trainee will work towards a Level 3 Digital Marketing SVQ supported by the Highlands based Virtual Learning Academy.
The Conservation and Landscape Management trainee will work towards Level 2 SVQ in Environmental Conservation supported by Rural Skills Scotland.
These entry level qualifications are only a part of the traineeship though. The practical experience gained through 12 months of learning from professional mentors is really valuable. Hands on experience is highly sought after by employers.
How long is the traineeship?
The traineeships are 12 months long, starting in July. A usual training week would be four days in seven, to sometimes include weekends (flexibility is needed to fit in with seasonal busy periods). In addition to the four days, one day a week trainees will work on their qualification.
Is there a holiday entitlement?
Yes, all trainees will be entitled to seven weeks holiday, including public holidays. At least four of those weeks will be specified and will include the Christmas period when Trees for Life is closed.
To apply for the traineeships do I need a full driving licence?
Yes, you will be required to use Trees for Life vehicles to attend project sites throughout the Highlands. It is therefore essential that all applicants have a full driving licence by the end of March 2021.
What support will be available to me whilst I'm on the traineeship?
There will be a full time 'Training Programme Manager' to coordinate all aspects of the traineeship and provide support and guidance to the trainees. Each trainee will have a mentor that is highly qualified in their chosen specialism. In addition, there will also be support available from the qualification providers.
Are there safety protocols in place to minimise the risk of coronavirus transmission?
Yes, Trees for Life have taken a cautious approach during the pandemic ensuring that as a minimum we follow Government advice/regulation. We have implemented strict risk assessed control measures to minimise risks. Keeping staff, volunteers, trainees and our local communities safe is of utmost importance to us.
Will Trees for Life give trainees a job when the traineeship is completed?
There is no guarantee of a job with Trees for Life at the end of the traineeship, but if roles in Trees for Life were to become available we would welcome applications from trainees. Trees for Life will also support trainees with job applications, CV writing and preparing for interviews.
Is there money available to support trainees?
Yes, there is a bursary payment of £8,454 per trainee to cover living expenses. This will be given to the trainees in 12 even instalments throughout the year. Also qualification fees are paid plus there is a clothing and travel allowance for each trainee. In addition, we will offer a £500 bonus on successful completion of the traineeship.
Is accommodation provided?
Shared accommodation is available FREE on-site at Dundreggan for the tree nursery horticulture trainees and the deer management and estate maintenance trainee. The digital marketing trainee and the conservation and landscape planning trainee will receive a monetary contribution of up to £5,400, in addition to the bursary payment, to enable them to find accommodation in the Inverness area. Additional funds will be available to cover travel expenses.
Be aware that Dundreggan is a remote location, with poor mobile phone and internet reception, and the nearest local centres (i.e. providing shop, pub, activities etc.) are at least a ½ hours' drive away. Inverness is at least a 45minute drive away.
Can trainees bring a dog or cat?
Trainees living on site at Dundreggan can not have pets living with them. Trainees living off site would have to make their own arrangements with a landlord.
Can these traineeships be used as placements for academic courses?
No, these traineeships can not be used as placements for academic courses.
What are the application criteria for the traineeship?
See the details on the recruitment process tab.
Securing support from the National Lottery
In 2017 Trees for Life successfully secured £376,800 from The National Lottery Heritage Fund to deliver a paid work-based training programme to fifteen individuals over three years. The money raised by National Lottery players is being used to support people with high quality on-the-job training that will lead them on to employment in the natural heritage sector. The funding aims to help address a lack of diversity and to fill identified skills shortages in the heritage workforce.
Paul Greaves the Skills for Rewilding Training Programme Manager says, 'We are delighted to have received this support from the National Lottery Heritage Fund. It is enabling us to provide the practical skills training and experience that people need when wanting to start a career that will have a positive impact on the natural environment of Scotland.' Find out more about specific traineeships by downloading the descriptor sheets below.