This grove of trees in the Scottish Highlands is to celebrate the birth of Jack William Boyd on April the 26th 2006.
from: the loyal fans at the Billy Boyd Board, with love.

A cute baby boy
to cuddle and squeeze,
To pamper and play with
and bounce on your knees!
Best wishes to you
and your new little guy...
May your happiness grow
with each year that goes by.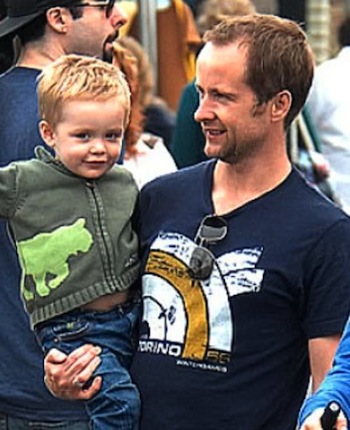 Read more
---
Donations
I make this donation in honor of a Dear lady and a good friend Sandi Hedges who lost her Beloved husband of 38 years, to a brief battle with cancer, so in honor of Mrs.Sandra Hedges and her children. And in memory of her husband Mr. Stephen (Steve) W. Hedges!
24/09/2012
Happy 6th Birthday,Jack! Wishing you sunshine, and smiles, and a wonderful year of being six! May you always be surrounded with Love and Laughter. from Laura Lawson
25/04/2012
Buon compleanno, Jack!
Donated by
Roberta Canovi
25/04/2012
With lots of love to Jack on his 6th birthday from Elaine at the BBB (Bondensbabe)
Donated by
Elaine Edmonds
16/04/2012
Wow, 6 years already! I bet they have been 6 great & fun years for you and I know for your mum and dad too! Hope you get to visit your Tree Grove soon, Jack! Penny XOXOX
16/04/2012
for Jack William Boyd 6th Birthday Happy Birthday Jack have fun and you too Billy and Ali, love Kay Griffin, aka PippinsKay aka PK
16/04/2012
This is little donation is for Young Master Jack Boyd's upcoming 6th birthday, to wish him a very Happy Birthday! Have fun Jack, loads of pressies and cake! And you as well Billy and Ali, have fun!
12/04/2012
in memory both of Kay's Mum, Ruby Marie Holton Griffin and also of Ginger's sister, Judy
23/08/2011
In memory of PK's mother and Pipkin's sister, 8/2011.XO, "Wee Scarvies" Jennie
Donated by
Wee Scarvies Jennie
18/08/2011
In memory of Kay Griffin's beloved mother and Ginger Crawford's beloved sister.
Donated by
Sandie Weissman
18/08/2011
To honour Jack's 5th birthday with love. Elaine Edmonds
27/04/2011
I am giving this small donation as a gift to both Jack William Boyd and his father, Billy Boyd. Happy birthday to you both!
22/06/2010
Happy 4th birthday Jack! Another year of growing and reaching new heights....just like your trees. Hope this year if filled with lots of new things to learn and discover.Cheers!The Greenwoods - Greg, Kim, Erin and Bryan.
Donated by
The Greenwoods
27/04/2010
Happy 4th birthday Jack.With lots of love.From Elaine at the BBB
More trees in baby Jack's honor!!! Love and blessings from Laura A. Lawson
Welcome to the world baby Jack. You are surrounded by love, and you will grow along with these trees and when you visit these trees with your mummy and daddy, know that you are special and loved by many.
Love, Kathleen from Santa Barbara, California, member of The Billy Boyd Board
You are an adorable, well loved little boy with hundreds, if not thousands of very excited adopted aunts just BURSTING to spoil you :-)
Much love from Carol Klavon from the Billy Boyd Board
For the love that is in the world between a woman and her man, for the children who renew the world. Thanks for keeping me dreaming. Roberta Canovi
A new baby is the greatest expression of hope that we can offer the world and baby jack, you Daddy knows that there is ALWAYS hope. Wishing you and your parents a lifetime of joy and laughter. Love always, Auntie Bugs
May you grow as tall, strong and beautiful as the trees of Lothlorien. With love from the Cranky Old Elf
I am a father of 3 boys ... well, now 2. I also teach Earth Science, Geography, and Meteorology, at the university level, so I understand the importance of environmental restoration. Some of my ethnic heritage is Scot as well. At any rate, I lost the oldest of my 3 sons in a severe auto crash some years ago. So, I understand the importance of both the environment and family. Watching Billy Boyd and his characters has given me a lot of enjoyment, and more often than not, brought a smile and chuckle to my face. So, out of appreciation for what he has brought me enternainment-wise, and what he has helped bring into the world, I wanted to wish him and his the very best and the very best of futures, for his son, and the forest. Appreciate both as much as you can.
William A Gustin
This donation is from an autographed pair of pink knickers Billy signed for me at ELF. A Billy Boyd Board member, Kathleen Winter, was quite determined to win these at any cost! And she did! A very generous donation towards baby Jack's grove courtesy of the BBB and its dedicated and loyal members with much love.
Penny Gibbs
Welcome to the World, Baby Jack!
To Jack - that you may be happy and healthy and bring joy to those around you. With love, Anita from the Billy Boyd Board.
With open arms and a warm heart, we welcome you into this world Jack William Boyd. May your life be full of blessings and many joyous moments. With much love, Aurora from the Billy Boyd Board.
Here is another £20 donation to baby's Jack's ever growing tree grove. This was from an ebay auction from the Billy Boyd Board and was won by Flora! I was able to give her 'prize' to her in person in Los Angeles when we both attended a gig performed by Billy and his band Beecake in March.
To Jack from the far side of the world (Alison)
Billy- we couldn't be happier for you and your beautiful family! We know your son brings you joy and happiness! He's adorable! Rachel and I wish you and your family nothing but the best and much love! Congratulations and Happy Birthday, Jack! Love always, Ashlee and Rachel Scott, M.A.R.S. Productions
This is a Special First Birthday Donation to Jack's grove from the Billy Boyd Board. The BBB Auctioned off an autographed photo of Billy's band, Beecake, in honor of Jack's first birthday! The winning bid was won by Kathleen Winter. Kathleen sends a hug and kiss to Jack on his special first birthday.
The Billy Boyd Board did a last minute quickie one day fundraiser on Jack's first birthday and raised an additional $75.00 or 38 pounds! We wish to thank Roberta Canovi, Kathleen Winter, Laura Lawson, Shirley McCarter, Barbara Vaughn, Alison McLaren, Constance Glover and Carol Klaven! Much love to Jack and his family, Penny Gibbs & Elaine Edmonds and the Billy Boyd Board! XXXXX
For all that is breathtaking and beautiful, pure and innocent, and ageless and timeless, for the love of trees, music and toddlers. Happy 1st Birthday Jack William. Much love, Kim, Erin & Bryan- fans of Treebeard and Beecake.
Happy Birthday Jack! May your life contain many moments that make you smile wide. : ) Peace, love, and courage to you little one! The McCarter Family
The BBB is pleased to make another donation to Jack's Tree Fund. We auctioned off a limited numbered Autographed BEECAKE T Shirt. Lynette Porter, who won the shirt on our Ebay auction wanted to share this message with jack: "Like these trees, may you be well grounded in your homeland, where your roots will grow deep, but also may you reach ever outward into the world as you grow."
Much love always, Penny and Elaine and all the BBB Members
More Trees for Jack!! Just in time for Christmas and New Year!! They will grow big, strong and tall, as you do. *Hugs* Jenny Green
In honour of your second Christmas young Jack. May you continue to grow big and strong, just like this grove of trees in your name will. xx
Elaine at the BBB
The Billy Boyd Board auctioned off an autographed 2008 Beecake calendar signed by Billy Boyd and his band mates from Beecake! Lynnette Porter won the auction and the calendar and had this message for wee Jack... "Happy Christmas to Jack and his family, lots of love, Lynnette"
In honor of Jack Boyd's second birthday, the BBB auctioned off an adorbale autographed photo of Billy Boyd and his dog Griffin, and an autographed Boyd's 'Bee' Bear tag & matching mug. We raised 89.50 pounds to add to the Tree fund! Both the winners of the 2 auctions, Sara and Shirley and all the members at the BBB, wish the Boyds and Jack much love and happiness. Enjoy your 2nd year, Jack and hope your birthday was a fun one! Penny Gibbs & Elaine Edmonds, The BBB admins.
xoxoxo
Happy 2nd Birthday, Jack!! *hugs* Jenny Green
Wishing you the happiest of days. May you and your family be blessed in all things!
HoneybeeMO
With much love on your 2nd birthday young Jack. From Elaine at the BBB. Xx
Happy 2nd Birthday Jack! Wishing for you another year of love and laughter. The Greenwoods- Greg, Kim, Erin and Bryan
A fantastic donation of $400 made by the BBB after an another recent eBay auction. Lynnette won the auction with the winning bid of $305.00 but wanted to up her donation to $400.00 so we could buy another 40 trees in celebration of Billy Boyds 40th birthday!
Her message is...
"A tree is known by its fruit; a man by his deeds. A good deed is never lost; he who sows courtesy reaps friendship, and he who plants kindness gathers love." St. Basil You're well known for your good deeds and kindness as much as your talent; I hope these new trees will be symbolic as well as practical and beautiful. Happy 40th Birthday. Lynnette"
A very happy 40th Birthday to Billy! Jack's Grove is going to be such a wonderful forest that future generations will have and enjoy for years and years.
Thank you Billy for being such an exceptionally good man and inspiration.
Penny, Elaine and all your loving fans at the BBB & BBF
Wishing you a hugely happy 3rd Birthday, Jack.
With lots of love from Elaine at the BBB. xxx
Happy third Birthday,Jack! May you grow ever big and strong, just like your forest! Wishing you a year full of smiles and wonder- Laura Lawson, Churchville,NY,USA, happy member of the BBB
Children are the sweetest treasures...Jack, I hope when you visit your trees some day you climb strong and high in their branches.
Sincere thanks as well to your daddy for his gift to the world through his work in theater, film, and music. Sharry, USA
Happy Birthday, Jack!
One day, I hope you and your Dad can visit the grove, and enjoy the trees planted here in your name.
May you grow as strong as they do.
Love, Constance Glover
Vermilion, Ohio USA
Happy 3rd Birthday Jack! May it be filled with love, laughter and many hugs. Wishing wonderful memories for you and your mom and dad on your special day.
The Greenwood Family- Greg, Kim, Erin and Bryan
Happy Birthday Jack! We hope that you enjoy climbing these trees when you get old enough to reach the branches! : )
Love from the McCarter Family
Happy Birthday Jack!!!!!
Best wishes,
Sarah M
Here are even more trees for your very own forest, Jack! Enjoy being 3 years old, and remember... you are only 3 for just 1 year, so have make lots a great memories with your mum and dad! Happy Birthday Jack William! Love to you, Penny XO XO XO (1 for each year!)
Happy Birthday, Jack!
A few more trees to celebrate your special day - make sure nobody makes toothpicks of them, will you? ;-)
May you and your family have a great day, and a blessed life!
xxx roby
Another tree, in honor of Jack's 3rd Birthday, and in Special Memory of Penny's beloved Mother
Donated by
Penny Gibbs, Elaine Edmonds, Crystal J, Kathleen Winter, Sarah McFeggan, Paula Connell, Janet Vincent, Karen Clifford, Mary Chambers, Cynthia Raaum, Sara Hoffman, Carol Klavon, Roberta Canovi, Laura Lawson, Anne Epstein, Sandie Weissman, Bernadette Barnes
01/01/1970