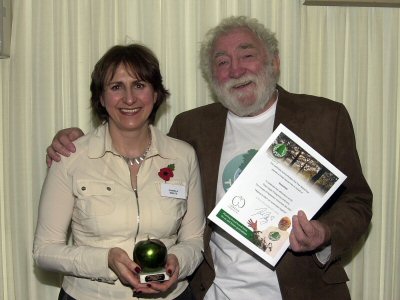 Managing Director, Daniela Weate receives our National Green Apple Environmental Award
from David Bellamy at the Houses of Parliament in November 2007
Greenfield is a national training and consultancy company based in Lancashire. It aims is to make a difference on behalf of its clients and the natural world.
Due to the nature of its business - much car travelling by the directors and their 20 associates - it decided to put into place a plan to go Carbon Neutral, which was achieved in June 2007.
As part of its many actions the directors bought a small 1000 cc low emission car to share between them and started using public transport as much as possible. The company reduced its mileage by 40% in a year - proving it can be done!
In November 2007 Greenfield Training won one national and two regional environmental awards for its work to go Carbon Neutral. The company wants to inform others about how to change to a more environmentally friendly way of life and work.
On the 9th November some of the staff went to the Houses of Parliament to receive a national Green Apple award from David Bellamy (sponsored by the Green Organisation). Then on the 15th it won the Environmental Management Award at the Lancashire Business Environmental Association's award evening and lastly on the 16th November won the Environmental award at the Lancashire Telegraph's Business Awards.
Having achieved this, the next aim is to communicate this message to as many individuals and organisations as it can to help them change, if even in a small way. That is the plan for 2008 and the publicity we have received from the 3 awards will help us get in front of other companies to spread the message.
What's more, it has pledged that 1% of all of its invoices will go towards environmental work in this country, with most of this going to Trees for Life, as the company strongly feels the more trees planted the better the world will be.

Read more
---
Donations
Donated by
Greenfield Training
23/08/2011