Add to this grove
Hawkey Office Cleaning Services
, London. Our aim is simple: to provide value and quality service to our clients, whilst minimising the impact on the environment. We offer a comprehensive range of office cleaning services covering all aspects. These include:
With knowledge gained from over 20 years of office cleaning contracts in London, Hawkey Office Cleaning is well aware of the importance of establishing a close working relationship with its customers. Hawkey Cleaning recently underwent a major change in its approach to day to day business. We examined our working practices and developed a focused environmental policy. Whilst still ensuring the customer receives the standard of service they expect, we have introduced new measures:
Energy saving policies
Recycling
Sourcing products from environmentally responsible companies
Staff awareness and training in environmental issues.
Another way in which we hope to put something back into the environment is by helping Trees for Life. Hawkey Cleaning will continue to contribute to the Grove and will actively encourage our clients to take a similar approach to environmental issues.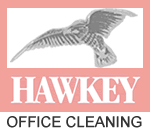 Read more
---
Donations
Donated by
Hawkey Cleaning Services
23/08/2011