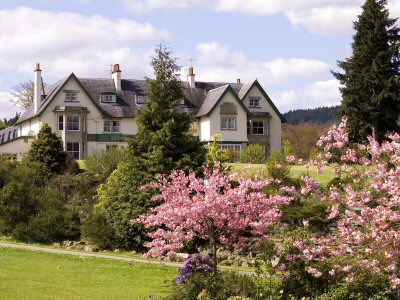 The Lovat, Loch Ness is a landmark 28 bedroom Victorian hotel situated in the bustling village of Fort Augustus. Caroline Gregory went into partnership with her parents in June 2005, proceeding to transform The Lovat as it underwent an extensive renovation from April 2006 – July 2007.
The hotel's refurbishment & continued development has been revolutionary in technological, cultural & environmental terms.
Installation of the first fully automated Froeling Turbomatic 100kW wood chip boiler in the Highlands, to provide central heating & hot water to the hotel
Personally designed & centrally controlled computer programme to work in sync with the wood chip boiler
Individual timing & temperature control on each bedroom, bathroom & public rooms via computer
The Lovat is an eco-conscious hotel, delicately balancing both contemporary & traditional comfort. Suppliers, guests & the team all contribute to the hotel's sustainable measures – whether energy saving, feedback, biodiversity &/ the all important carbon footprint. It is the latter that has an active role in the hotel's operation as the Lovat monitors & calculates the carbon footprint of each guest so that is can then make a carbon conscious donation through Trees for Life.
Read more
---