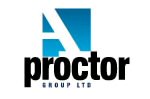 For more than 30 years, The A. Proctor Group Ltd has provided technically advanced products to the UK construction industry.
We provide innovative solutions for areas in Acoustic Insulation, Construction Membranes, Geosynthetic Engineering, Metal Roofing, Thermal Insulation, Timber Cladding and Vibration Isolation.
At the A. Proctor Group Ltd, we recognise the importance of incorporating processes and products which reflect the priorities of the changing environment into our business objectives'.
A pro-active and flexible environmental policy enables us to adapt our procedures whenever new technology or research is introduced that allows us to reduce the impact that our business has on the environment around us.
Since 2005 we have successfully managed to reduce the amount of waste going to landfill by 50% and continue to implement new recycling techniques where possible. We already recycle cans, paper, plastic, cardboard and other materials used in the manufacture of products at our factory. We also compost teabags and other organic matter from the staff kitchen at the extensive head office grounds.
We are currently working on an initiative to reduce our energy consumption and carbon footprint. This is why Trees for Life is an important charity for us to support as it fits in with our environmental focus and makes a positive change for future generations.
Read more
---
Donations
Donated by
The A. Proctor Group
23/08/2011