Voice of the Trees: A Celtic Ogham Oracle Deck's celebration grove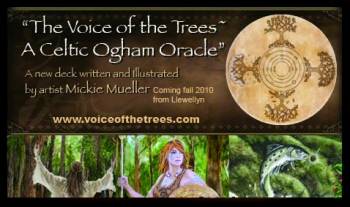 This grove was set up for friends of "Voice of the Trees: A Celtic Ogham Oracle Deck." This deck is based on the Celtic Tree Ogham, will be available in bookstores everywhere in the fall of 2010.
Upon the completion of the artwork and manuscript, artist and writer Mickie Mueller wanted a way to bring this forest of trees to life and give something back to the earth. During her research for this project, she discovered "Trees for Life," a group dedicated to the restoration of the Caledonian Forest in Scotland.
Many of us are spiritually drawn to trees, if you would like an opportunity to honor that connection with positive action, Mickie invites you to be a part of this grove planted in the name of "The Voice of the Trees," your sponsorship of a tree for this grove will help to bring back the native forests of our Celtic spiritual ancestors for the enjoyment of future generations.
Bright Blessings!
-The Mickie Mueller Collection